If you want to make a splash at your next mermaid outing, create bold mermaid makeup with fishnets to match your tail! The combination of colors and highlights will make you look like a shimmering mermaid princess without having to get wet.
While swimming in a full face of makeup isn't easy, a bold look is perfect for entertaining and catching some golden rays. You can have this surprisingly easy mermaid makeup with 5 simple tips and a pair of fishnet tights.
Care for your skin
It'll be hard to keep your mermaid glow if you don't take care of your skin first. Now's the time to start a skincare routine that helps you feel radiant and beautiful.
Before you head out into the sun, there are two items you need to protect your skin: sunscreen and moisturizer. Sunscreen will keep you from getting a sunburn, and moisturizer will keep your skin fresh and smooth.
Wear fishnets (the wrong way)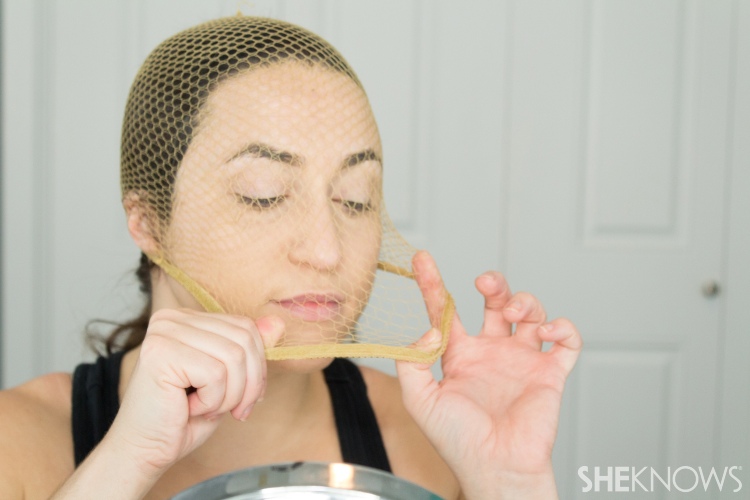 Once you've prepped your skin, it's time to create your own bold mermaid makeup with fishnets. All you have to do is cut the leg of the stockings off and pull it over your head. You can also use a fishnet wig cap if you have one.
Pull the fabric down far enough to cover your entire face. You'll look silly at first, but the end result is worth it! Pin the fishnet to your hair if you want to prevent the fabric from slipping while you apply the makeup.
Fishnets are the perfect shape for a mermaid scale stencil. You can create dimensional scales along your cheekbones, temples, forehead, or anywhere else you'd like.
Apply mermaid eyeshadow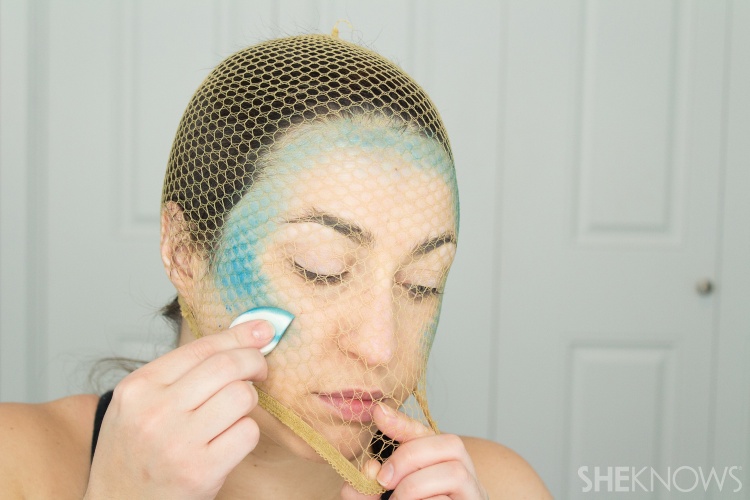 With the fishnets in place, it's time to apply eyeshadow. But first, add a spritz of setting spray to your skin to make the color pop. You can use typical mermaid makeup colors like green, blue, and purple, but it's also fun to use makeup that matches your mermaid tail.
Start with your base color and apply it where you want to create scales. Fill in the entire area around the fabric, but don't move the fishnets. If you do, there won't be space between the color to create the illusion of scales.
Take a second, deeper color to add shading to each scale. This time, don't fill in the entire scale. Instead, only add the color to one side. This creates the illusion of each scale overlapping each other, casting shadows on the edges.
Don't forget highlighter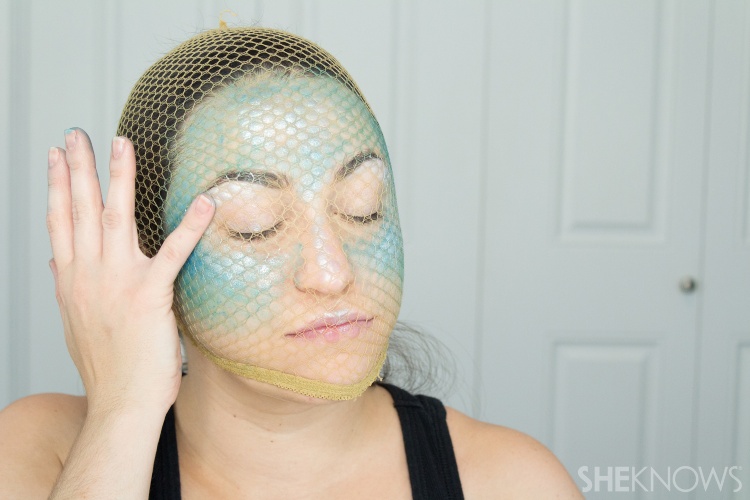 Your realistic mermaid skin probably looks mer-mazing as is, but you're not done yet. Since you've shaded each scale, you also need to highlight them.
Pick your favorite highlighter or one that matches your color scheme. Next, tap a small amount onto each scale on the opposite side as the shading. This will give you a glistening look that looks like you just emerged from the sea!
Add the finishing touches
Now that your scales are finished, carefully remove the fishnets to reveal your beautiful scales.
Then, add the finishing touches to your bold mermaid makeup. You can use a similar color scheme for your eyes or add a touch of shimmer eyeshadow to enhance the wet look. Add some colorful eyeliner and waterproof mascara, and you're good to go!
If you're feeling extra, you can also use scale body decals and face gems to enhance your mermaid look. You're the one in charge, so you can be any kind of mermaid you want!
Easily create mermaid makeup with fishnets
If you want to look the part of a stunning mermaid princess, try creating a bold mermaid makeup look. Choose from all the colors in the rainbow and use your imagination to become your best self. Just remember to have fun with it!
What do you think of these bold mermaid makeup tips? Tell us in the comments section!