Feeling landlocked, but an ocean escape is too out of reach?  Yearning for the beach amid busy schedules and tight budgets?  All mermaids have felt that way at one time or another.  We think summertime is the best time to bring the beach to your backyard without breaking the bank!
Water
A beach isn't a beach without water!  If you have a big yard and some cash to burn, buying a pool is one of the best ways to beat the heat.  For smaller outdoor spaces, sprinklers and water features are some alternative ways to feel as if you're close to the water.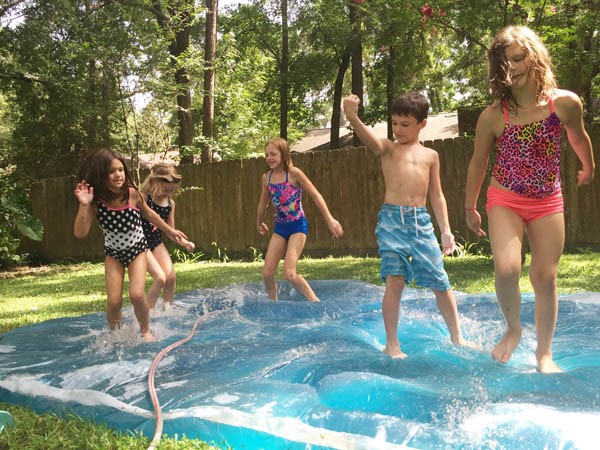 Want something especially unique?  The Clumsy Crafter offers instructions on how to make a Water Blob, the perfect lounge spot for a mermaid to cool off and stretch her fins on a hot summer day!
Sand
Fun to play with and relax on, sand is another beachy must-have.  Sandboxes are a great way to incorporate this seaside element into your outdoor paradise.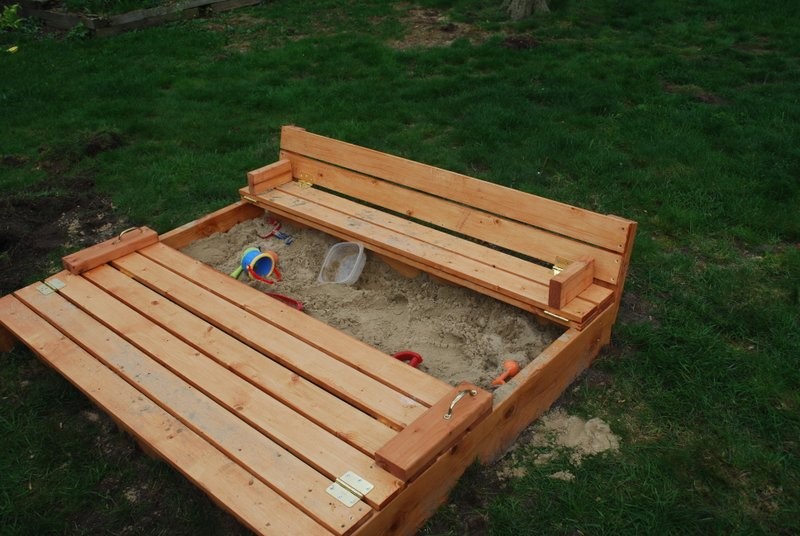 Check out Tipsted's list of DIY sandbox ideas for ways to make your own sandy haven!
Furniture
When it comes to furniture that evokes days under the ocean sun, the only limit is your imagination!  You could buy new sea-inspired patio furniture, set up beach chairs and umbrellas in a pinch, or give some old chairs and tables new life by spray painting them bright, tropical colors!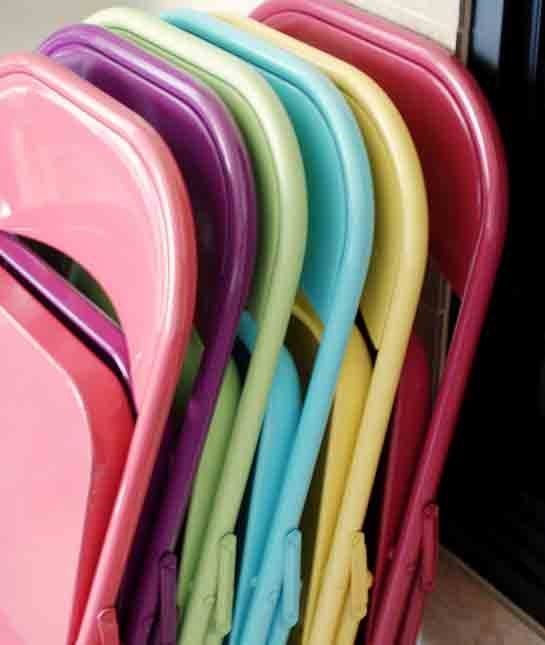 None of these options striking your fancy?  For some more ideas, Paula Kashtan's 27 Patio Hacks is a good place to start for inexpensive and creative ways to spruce up your outdoor living space.
Lighting
Of course, what's the fun if you can't enjoy your backyard beach when it's dark?  Light up the night with lanterns, string lights, tiki torches – you name it!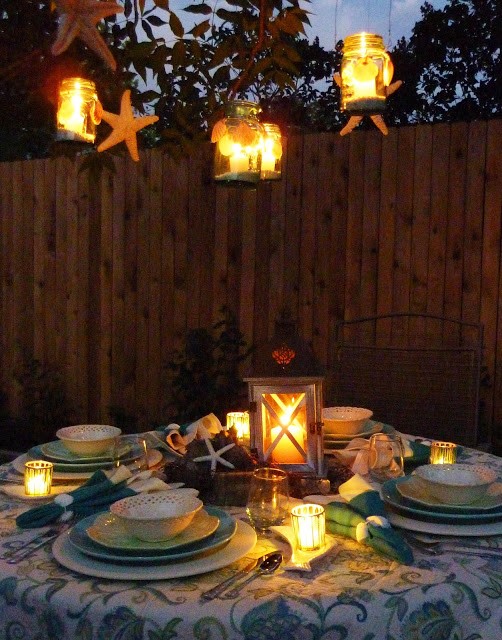 Creating Wonderful Spaces made these adorable Beach-Themed Mason Jar Lights with materials found around the house.  The possibilities are truly endless!
Fire Pit
For a different kind of nighttime atmosphere, look no further than a fire pit!  Whether you buy or make one (like Thrifty Little Mom's DIY Fire Pit), everyone will love gathering around a small bonfire to toast marshmallows and share deep sea tales of pirates and mermaids.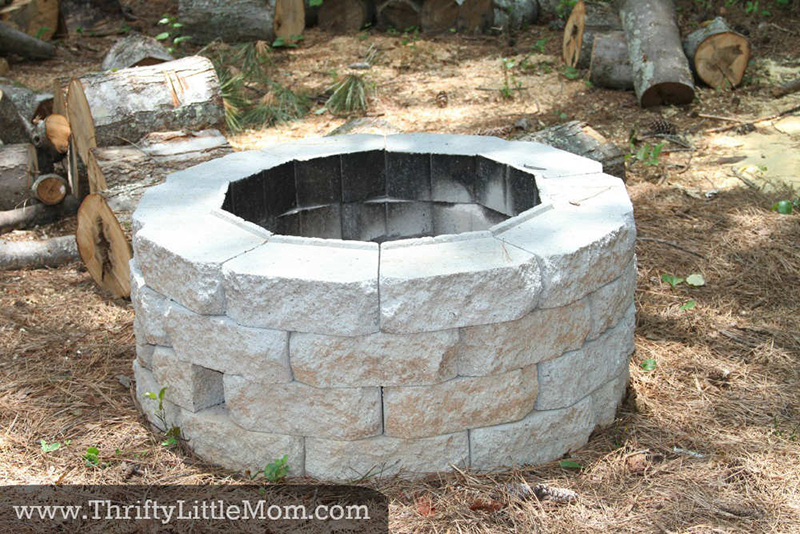 Finishing Touches
Once you've set up your backyard oasis, there are still a few more ways to add to the seafront ambiance.  To hear the ocean, a Sound Machine can be used both indoors and out to help you unwind after a day without water!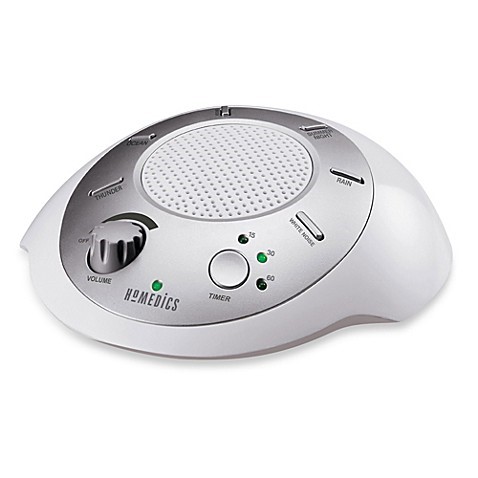 When days are especially hot, a Misting Fan will ensure that you have will always have your own ocean breeze at your fingertips!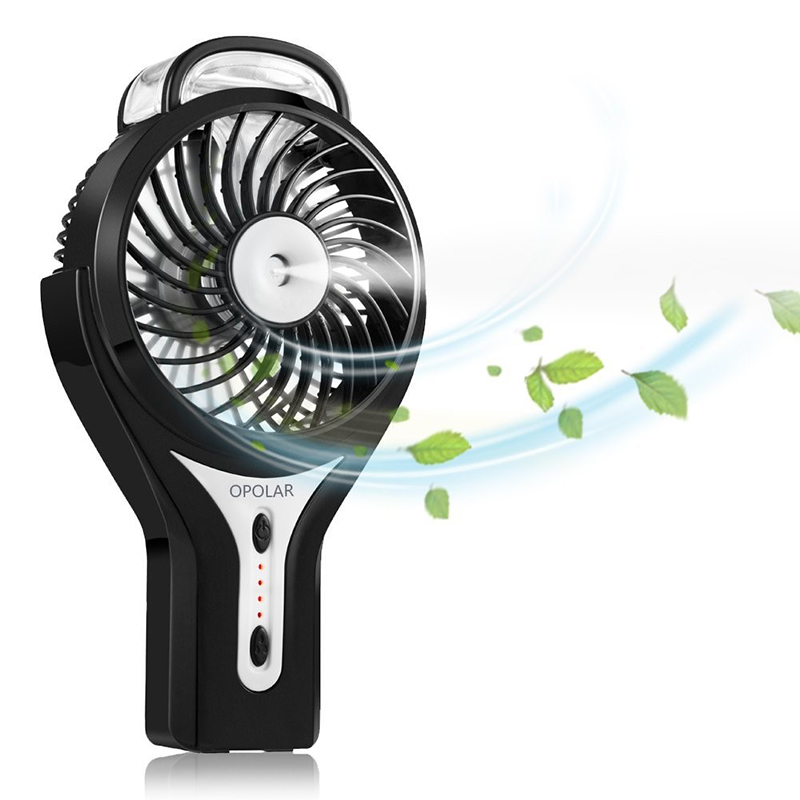 When you're expecting guests, make sure you have a beach sign to point them in the right direction!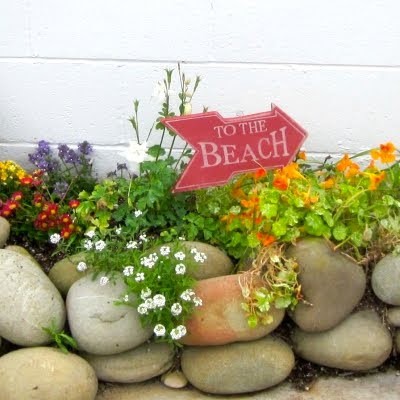 Beach Fairy Garden
Finally, you can never go wrong with a beach or mermaid-themed fairy garden to bring the magic indoors!  Have a go at designing your own, or take finspiration from Just Bright Idea's "16 Magical Mermaid Gardens You Can Make in an Afternoon."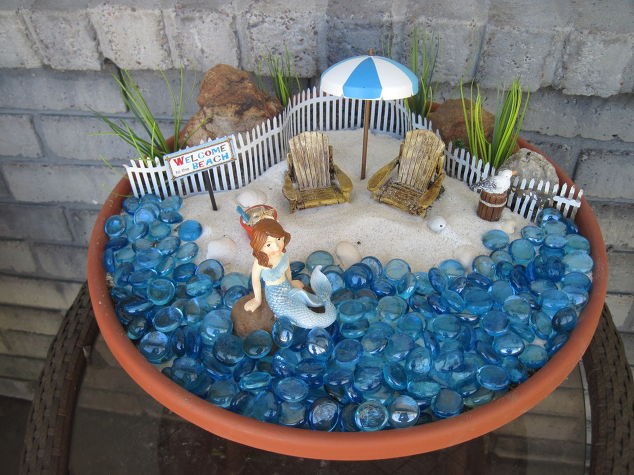 How do you keep the beach only a few strokes away?  Feel free to tell us your tips and tricks in the comments!