After a long day out swimming or hanging out with your pod, take time to unwind with a DIY mermaid bath bomb. This time, getting into the water isn't the start of a workout. Instead, let your muscles relax and let go of the day's stress and anxiety.
Many DIY bath bomb recipes include materials you already have at home, so this is a great activity if you want to stay inside.
Simple yet fun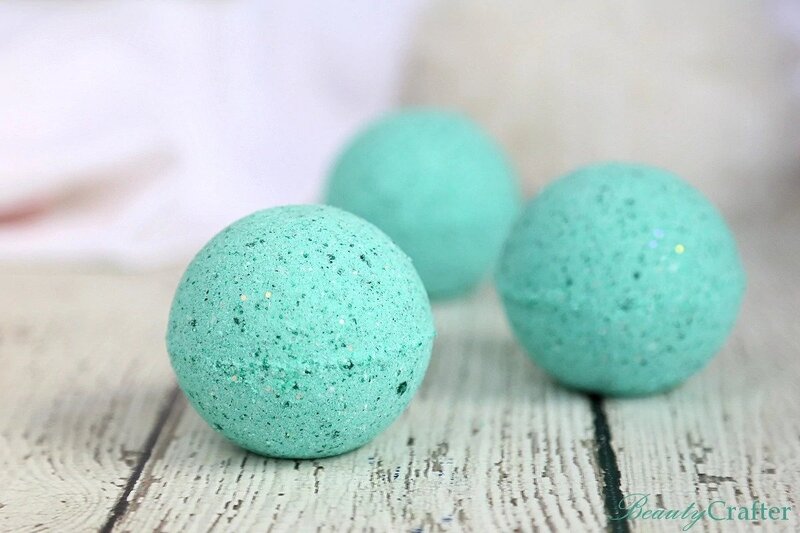 Do you want to turn your bath into a glittering sea? Even better, do you want your skin to sparkle with glitter after you get out? Take a look at this simple bath bomb recipe from Beauty Crafter.
Ingredients:
1 cup baking soda

1/2 cup citric acid

1/3 cup cornstarch

2 tbsp iridescent glitter (go for biodegradable glitter for an eco-friendly bath bomb)

2 tsp fractionated coconut oil (or substitute another liquid oil)

20 drops of teal gel dye

10 drops of lavender essential oil (or another scent you enjoy)

approximately 1 tsp water

2.75 to 3-inch bath bomb mold
If you don't have citric acid, lemon juice,apple cider vinegar, and cream of tartar are great substitutes. You also don't need to have bath bomb molds. Use cookie cutters, muffin tins, and measuring cups to shape your bath bombs instead.
All you do is whisk the materials together and add enough water that it sticks together. Place it in a mold, and allow it to dry. Then, store your finished mermaid bath bombs in an airtight container or bag.
With a surprise inside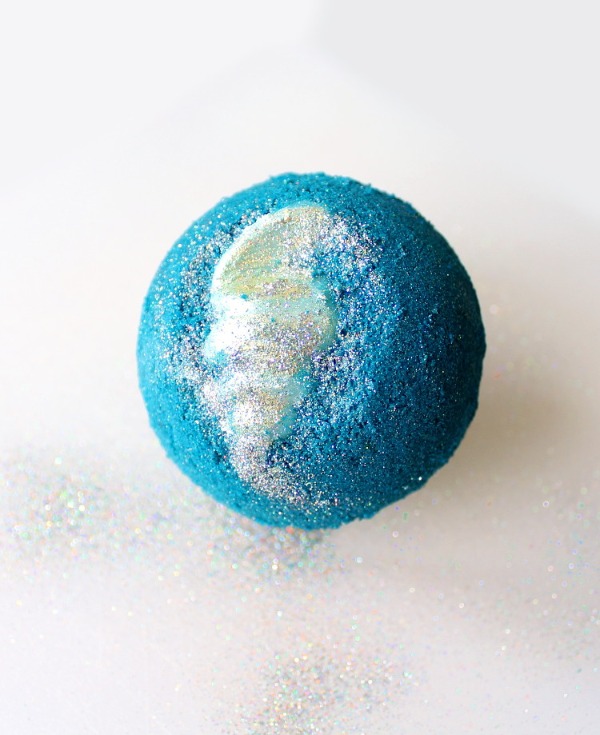 This DIY mermaid bath bomb from Soap Deli News has a fintastic surprise inside! This makes the perfect gift for all your merfolk friends, but we won't judge you if you make some for yourself too!
Ingredients:
9 oz. baking soda

5 oz. citric acid

0.5 oz. SLSA (sodium lauryl sulfoacetate)

0.5 oz. kelp powder

0.5 oz. kaolin (white cosmetic) clay

0.5 oz. refined coconut oil

0.5 oz. oat butter

0.5 oz. cocoa butter or kokum butter

0.05 oz. (about 1 tbsp) blue 1 lake dye powder

0.6 oz. (about 2 tbsp) fine silver (or rainbow) biodegradable cosmetic glitter

0.2 oz. polysorbate 80

0.25 oz. cyclamen & citron fragrance oil (or your scent of choice)

additional cocoa butter or kokum butter (for seashell embeds)
To start, melt the cocoa or kokum butter and place it in a seashell or other beach-themed silicone mold. Set them aside and work on the rest of the bath bomb.
Next, mix together your dry ingredients. (Note: It's easy to inhale SLSA, so please wear a face mask while working with it.) Melt the oil and butter and add them to your dry ingredients along with the polysorbate 80 and fragrance.
Press your mixture into a mold and place your cocoa butter seashell into one side of it. Once it sets, you're ready to enjoy a moisturizing and fizzy bath!
Pretty shells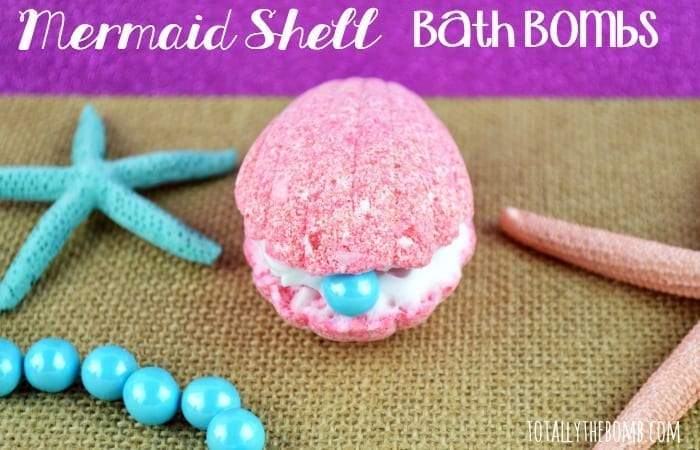 Instead of making traditional, spherical bath bombs, try a homemade mermaid bath bomb that looks like a seashell! These mermaid bath bombs from Totally the Bomb are almost too pretty to use and look like the perfect beach decorations.
Ingredients:
1/2 cup citric acid

1 cup baking soda

1/2 tsp olive oil

Your choice of essential oil

Neon pink food coloring

Seashell silicone mold

Witch hazel (in a spray bottle)

White foam shaving cream (optional)

Sixlet pearl candy (optional)
Combine all the ingredients but the witch hazel and optional materials. Spray the mixture a few times with witch hazel and mix.
Next, press the material into your seashell mold and let them dry overnight. You can stop at this step or make them even prettier by using the two optional materials to create clamshells!
Take time for you with a DIY mermaid bath bomb
A DIY mermaid bath bomb is the perfect way to relax when you need some time alone in your mermaid bathroom. Enjoy the beautiful colors and sparkles that you got to choose! Before you know it, you'll be ready to head back to the sea with your Fin Fun mermaid tail!
Let us know in the comments which beachy bath bomb you're dying to make!
---
You can also relax with a snuggly mermaid blanket! Take a look at Fin Fun's current discounts.