Many of us have grown up dreaming of Ariel's voluminous red locks and other famous mermaid hairstyles. With a mermaid hair tutorial, you can transform yourself into the mermaid you've always wanted to be. Whether you want bright colors or an all-natural look, there's a tutorial for you.
1. Sea-nic hair color
Mermaids can have whatever hair color they want! If you want to commit to vibrant mermaid colors, make sure you see a hairstylist. There are plenty of people who use mermaid hair dye on themselves, but a professional can help you achieve the look you want.
This video shows vibrant blue and sea green hair with incredible depth. Would you go for this color or something different?
2. Bouncy beach waves
What better way to find your mermaid vibe than with beautiful beach waves! This gives you a windswept look as if your locks air-dried with the sea's salty spray. You can give your hair gorgeous waves with a waver or curling iron, or you can go with heatless waves.
This mermaid hair tutorial demonstrates one method to create heatless beach waves on straight or slightly wavy hair. All you do is twist damp hair together and sleep on it. When you wake up in the morning, it won't take long to do your hair!
3. Beautiful braids
Mermaid braids are another brilliant way to style your hair for a day in your mermaid tail. It keeps your hair out of your face, and it'll hold your hair together as you swim. You can also decorate your braid with ocean-themed clips or pins!
This video tutorial demonstrates the Goddess braid, also known as the Mermaid braid. It's created by weaving strands of hair through a loose, three-strand braid. Which is your favorite braid for mermaiding?
4. Ab-shell-lutely natural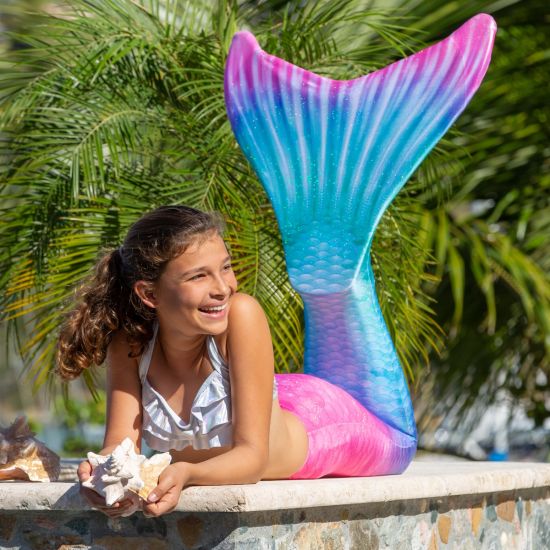 If you have natural hair with fabulous curls and waves, don't be afraid to rock it as a mermaid! Merfolk don't have access to curling irons and straighteners in the water anyway, so your hair will create a realistic mermaid look.
Each person's natural hair is different and may require a different process. Just keep your hair healthy and moisturized, and you'll look beautiful at the waterfront!
Find stunning hairstyles with a mermaid hair tutorial!
Your hair doesn't have to be the same each time you put on your tail, so experiment and have fun! These mermaid hair tutorials can spark your creativity and give you fun hairstyle ideas.
What's your favorite way to do your mermaid hair? Share your tips and tricks in the comments!
---
Need matching mermaid hair accessories? Check out current discounts here.