Another tail design contest has come and gone, and here at Fin Fun, we love seeing you get creative! We received 1,082 submissions and 6,972 votes from all over the world, and our Fin Fans chose one grand prize winner and 10 runners-up. It was tough deciding which tails to vote for, but we hope to host many more design contests in the future so you can share your talents with us!
Let's take a look at the winners for the 2020 Tail Design Contest!
Grand Prize Winner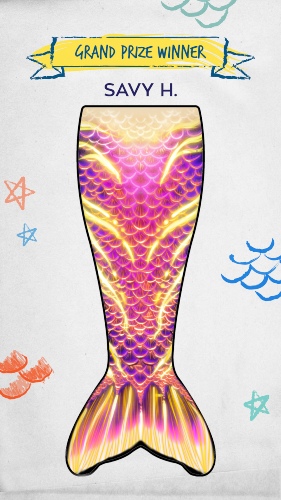 We love the vibrant colors and glowing effect in Savy's design! Deep Sea Rave is the newest Fin Fun Limited Edition mermaid tail and opened for pre-orders shortly after the contest ended. We're producing limited quantities, so get yours before it's gone!
About the Designer: Savy H.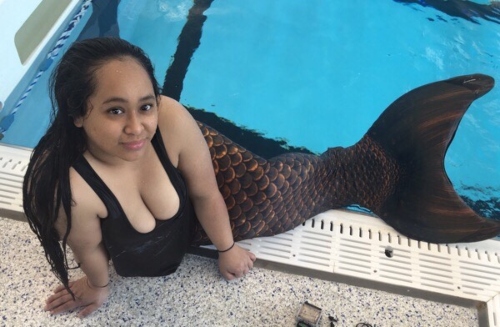 Enjoy this small Q&A with Savy to learn more about her and her design!
What got you into mermaiding?
I've been following mermaids Melissa and Hannah for a long time. I've dreamed of being a mermaid for maybe 6 years? I only recently started officially becoming one for about 2 years now.
What inspired your winning design?
The tail is call Deep Sea Rave, inspired by the colors of glow sticks in the setting night. I wanted the tail look like fluorescent colors of pinks, fuchsia, purples and yellow. I wanted it to look bright and fun.
What is your favorite mermaid memory?
My official first tail unboxing. Which was my first custom Fin Fun tail actually. It was so much fun. Swimming in my Linden Monofin for the first time was another favorite moment! The speed I went felt amazing!
What advice do you have for future Tail Design Contest entrants?
Be bold in coloring in every space of the tail. Make your details as clean and bold as you can. I think it helps to adjust your colors when you take a picture of it. I personally like to use a mixture of methods together or draw on my phone's drawing app.
What art experience or training do you have?
I'd been trained in a bit of fine and media arts before going into theater. I have been doing art since I was young. I use watercolors, painting, sculpture, digital, color pencils, and pastels, and I am a seamstress.
What advice do you have for new mermaids?
Just keep in swimming, swimming, swimming! It's the best escape floating there as a mermaid. The world is yours there. Don't let negativity sink you. Swim free and let your dreams swim with you. Express yourself to the fullest in everything you do. That's the mermaid way!
Thanks, Savy, for answering our questions and showing all the mers in our Fin Fun pod that anyone can make their dreams come true!
Runners-Up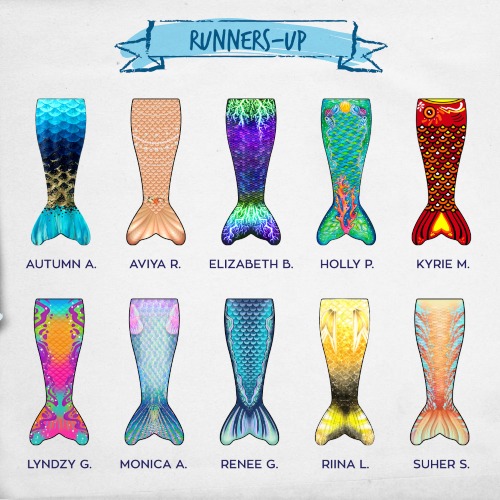 Savy wasn't the only one to submit a spectacular design in this year's Tail Design Contest. Here are the 10 runners-up with their tail designs!
Autumn A.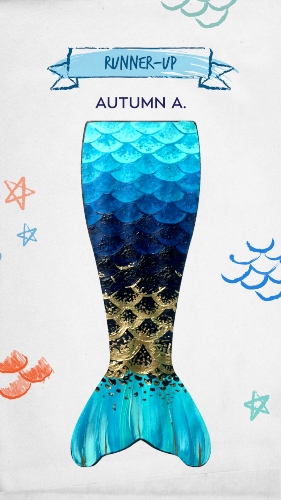 At first glance, many of the mers in the Fin Fun pod thought Autumn created her design digitally, but it's actually made with acrylic paints and a gold paint pen! We can't even imagine having this much skill with a paintbrush. Autumn, thank you for entering with this gilded design!
Aviya R.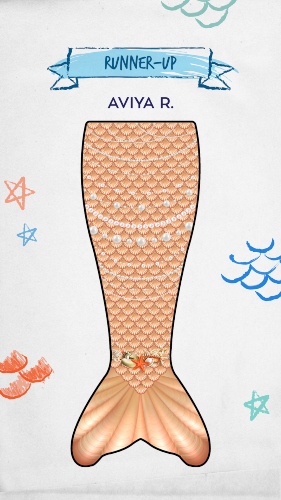 You may know Aviya by another name — Mermaid Shiina, a Fin Fun Mermaid Ambassador from Israel! She calls her design "Pearl of the Sea". It has scalloped scales, pearl necklaces, seashells, a starfish, and even a small crab!
She picked the color specifically to go with mers of all skin shades, so thanks for being an inclusive queen and ocean activist, Mermaid Shiina!
Elizabeth B.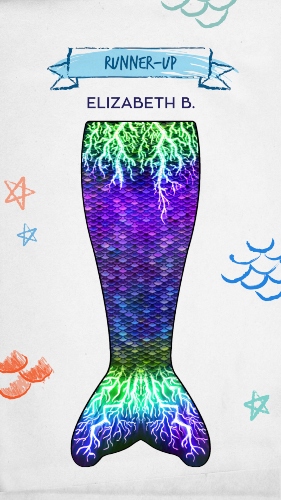 If you remember Elizabeth, you know that she won the 2019 Tail Design Contest. She's back at it with another stellar design filled with bolts of lightning. It has a glowing effect similar to Diamond Frost (which is still available as a Retro mermaid tail!), but this one is much more electrifying!
Holly P.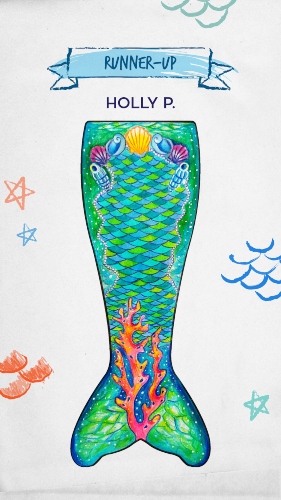 Holly used a mix of colored pencils and acrylic paints to bring her tail design to light. We love the shells lining the waist and the coral sprouting from the fluke! This unique design is different from any other we've seen, so thank you for your creativity, Holly!
Kyrie M.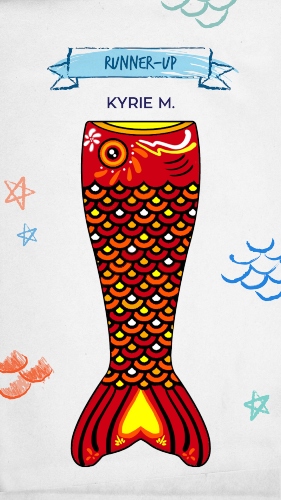 Kyrie's swimmable mermaid tail design inspiration comes from two Japanese sources: taiyaki (a fish-shaped cake) and koinobori (a carp-shaped windsock). Her design is the perfect combination of the two, and we love the vibrant colors and bold shapes. Plus, wearing this tail will look like you're in the fish's mouth!
Lyndzy G.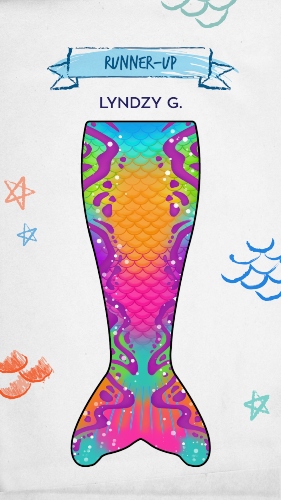 Lyndzy's design is a rainbow of fun! She states that her inspiration was "tropical rainbow fish like the Mandarin Goby and Parrotfish," and we love her creative take on real fish scales. Fin Fun has created mermaid tails inspired by fish before, but this one is definitely one of a kind!
Monica A.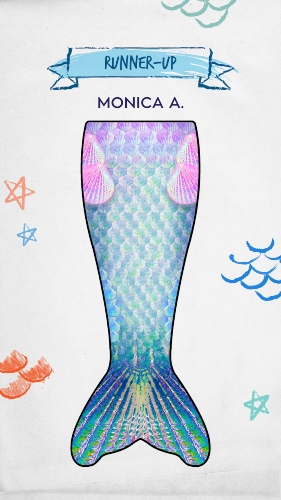 Monica, a Virginia-based mermaid, says her design was inspired by an iridescent rainbow seashell she uses to create mermaid crowns. We love the seashell scales and rippling fluke in this design!
Renee G.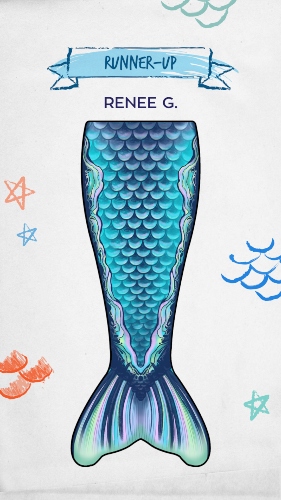 Renee's mermaid tail for swimming design features all the shades of blue you'll find in the ocean, as well as subtle pink, mint, and lavender hues. The design on the sides and fluke gradient has us swooning, so congrats on your spectacular design, Renee!
Riina L.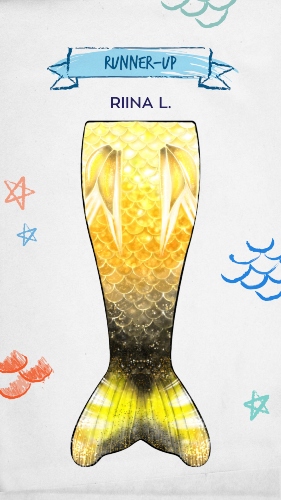 Riina's design comes all the way from Finland. Because they don't see the sun as often this time of year, she created a tail to bring "light and warmth and fight the seasonal depression and darkness." This year has been a dark year for many people worldwide, so thank you for sharing your light, Riina!
Suher S.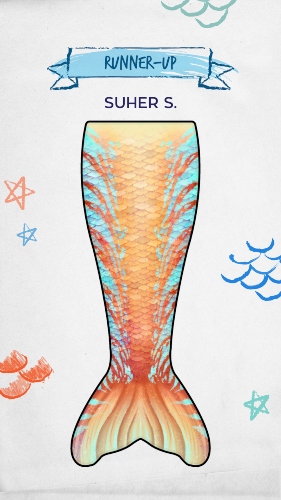 We can also see mers of all skin tones pulling off this beauty of a mer-tail. Suher created a stunning scale shape with all the right shading so that no scale is the same. Not to mention, the cyan striping offers a bright pop of color!
Order the Deep Sea Rave Limited Edition Tail Today!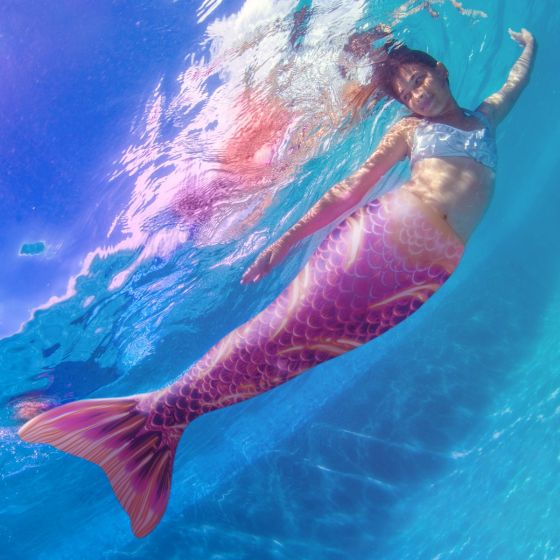 The Grand Prize Winner received a custom-printed tail of Deep Sea Rave and a monofin, and all the runners-up received a custom mermaid tail featuring their submitted designs. Merfriends, don't forget to post a picture of your custom tails and tag @FinFunMermaid on social media so everyone can see how your designs look in real life!
Also, Fin Fun will have Deep Sea Rave in stock for a limited time, so swim on over to Fin Fun and order yours before it's gone!
---
Check out Fin Fun discounts for great deals on mermaid tails, swimwear, and more!