Fin Fun has some of the most creative and talented fans in the world—that's why we wanted to get their ideas for a new 2020 tail!
Throughout the month of November, Fin Fun hosted the first-ever, Tail Design contest. More than 400 unique and beautiful designs were submitted and 2,600 votes were placed.
Three winners received their custom design mermaid tail, and one of those winners received the title of #FinFunDesigner for the January 2020 Tail of the Month.
Let's take a look at the winning designs: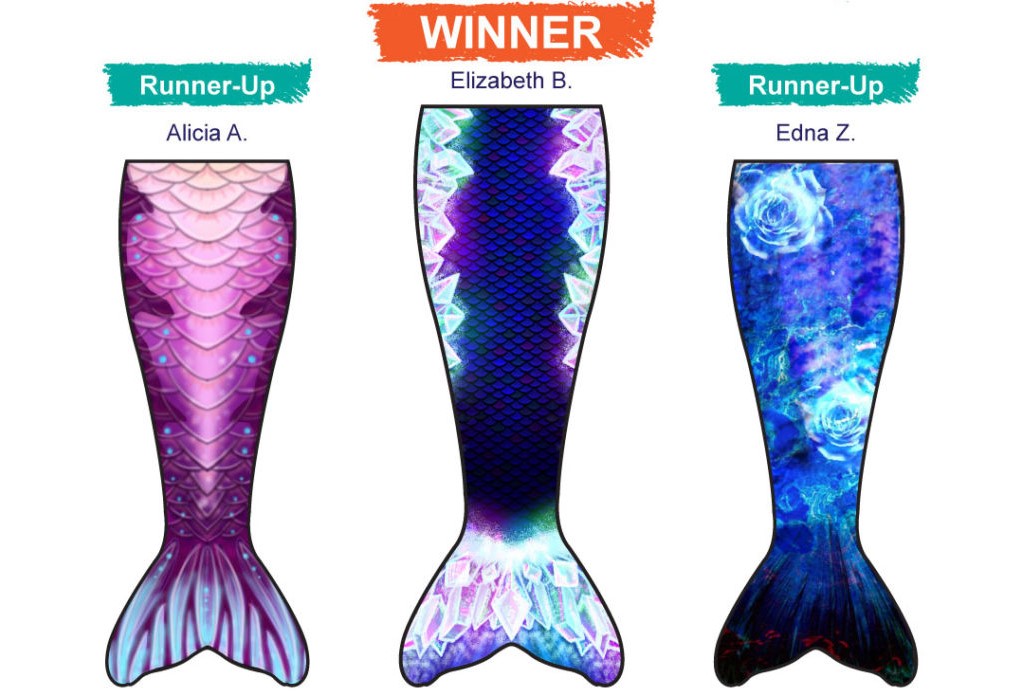 2nd Runner Up – Edna Z. from Alabama
Edna loves mermaid tails with unique designs and is the mother of little mermaids herself. Her favorite Fin Fun tail design is the clownfish which is, in her words, "absolutely adorable." Edna's love for roses and the ocean-influenced the creation of this beautiful blue tail.
1st Runner Up – Alicia A. from Utah
Alicia is a college-age artist who hopes to bring her artistic side to light. Her mermaid tail design was inspired by scaly snakes and deep-sea eels. "I based a lot of the scale pattern, and a lot of deep-sea eels have bioluminescent spots on them, so I lined up the tail with blue spots for a "glowing" effect." Alicia's favorite Fin Fun tail is the Atlantis Katana Koi tail because "it's a gorgeous red and the extra fins are so fun!
Winner – Elizabeth B. from New Jersey
Elizabeth is a college animation major from New Jersey, who studied art at a specialized arts high school in New York City. I love swimming around in my favorite Fin Fun mermaid tail, the fiery orange Tropical Sunrise tail. When designing my mermaid tail, I concentrated on making it very unique and different. My design was originally inspired by snow and ice crystals, but I decided to make them look more colorful and magical. 
Order the Diamond Frost tail design today!
Elizabeth's tail design is now available to purchase for a limited time only on Fin Fun's website! Click here to order yours today!