With Mother's Day just around the riverbend, it's time to get mermaid mom gift ideas swimming through your head! Ditch the flowers and candy—dive straight for the good stuff with our 2018 Mother's Day Gift Guide! Discovering unforgettable gift ideas for the mermaid mom is easy when you know where to look.
Because really, there's nothing wrong with dropping hints to your loved ones—or even shopping for yourself! Read on to see these Mother's Day treasures.
Art of Lunch Neoprene Mermaid Lunch Bag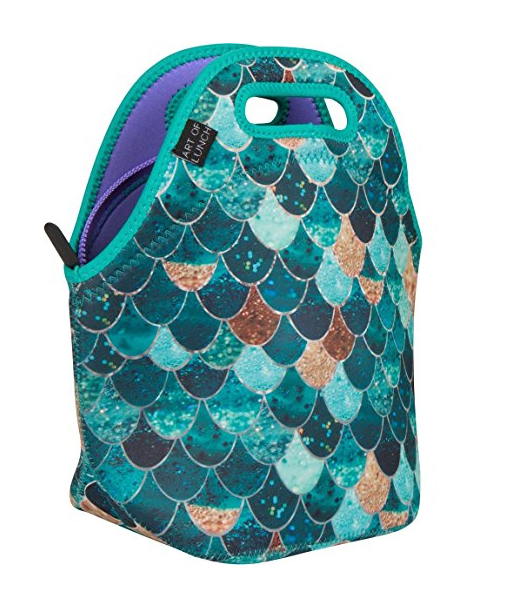 Do you have high standards when it comes to lunch bags? Reel in this reusable and eco-friendly bag featuring a multicolored mermaid-scale pattern! Designed by a German artist, this neoprene bag is just the thing for storing your sushi rolls and seaweed wraps! Add the reusable bags for plastic-free mealtime!
Rifle Paper Co. Vintage Mermaid Notebooks Set of 2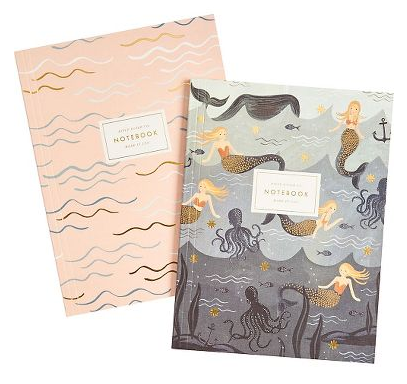 Document life's special moments in these vintage-esque mermaid journals that feature premium paper and gold foil accents. Each notebook includes 64 gloriously blank pages so you can write to your heart's content or doodle drawings without line constraints.
Manna 20 oz. Retro Air Water Bottle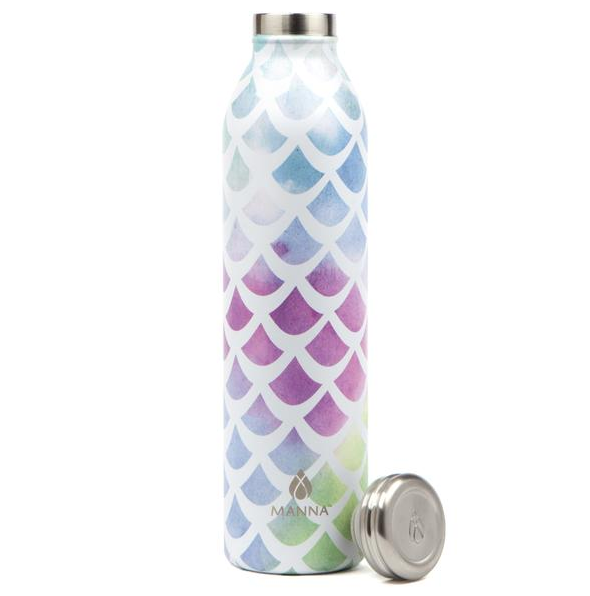 Make a splash on Mother's Day with this insulated Retro Bottle that's unlike any other! Designed with traditional milk bottles in mind and modernized with trendy graphics, this BPA & lead-free water bottle is leakproof (and even condensation-free) so you can hydrate without the watery mess!
Firebox Magical Mermaid Socks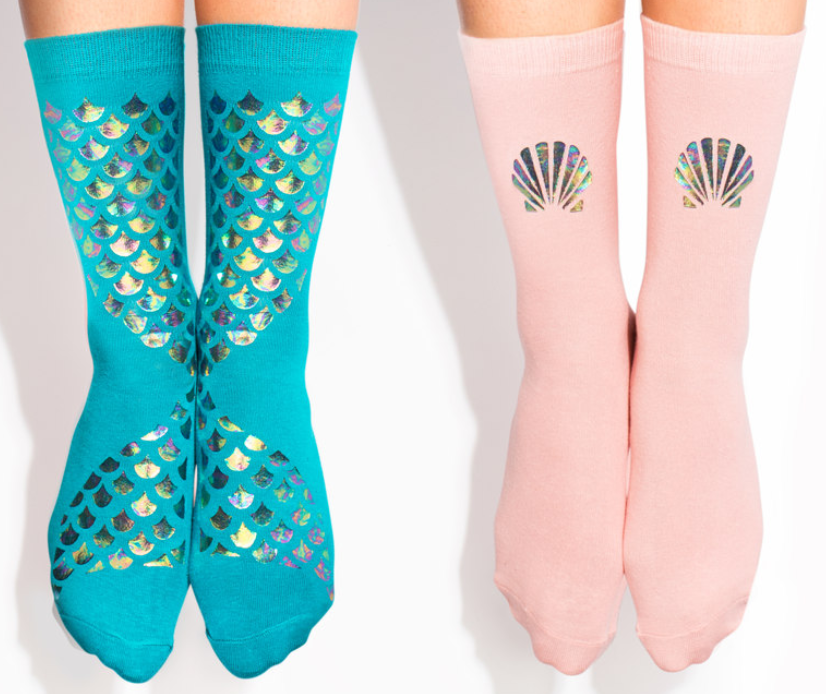 Wash away your boring old socks and rock mermaid fashion with these playful, iridescent designs printed on a super-soft cotton blend. You won't miss your fin when you're skipping about in colors that sparkle in the sun!
Green Wonder Forest Mermaid Scales Comforter Set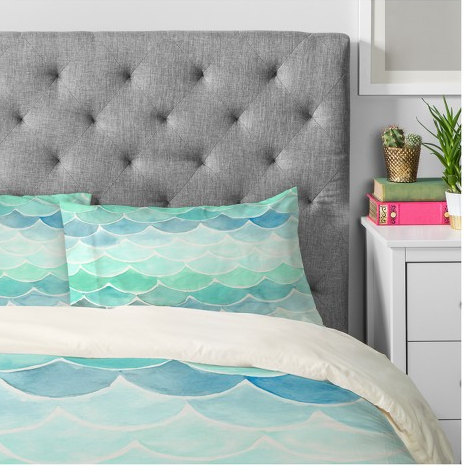 Sleep in tranquility with a comforter set flowing with ocean colors! We think Mother's Day is the perfect excuse for a new bed set, so you may as well choose the design that brings out your inner mermaid! Wake up each morning surrounded by waves with this machine-washable set. Available in most sizes.
Fin Fun Mermaid Leggings for Adults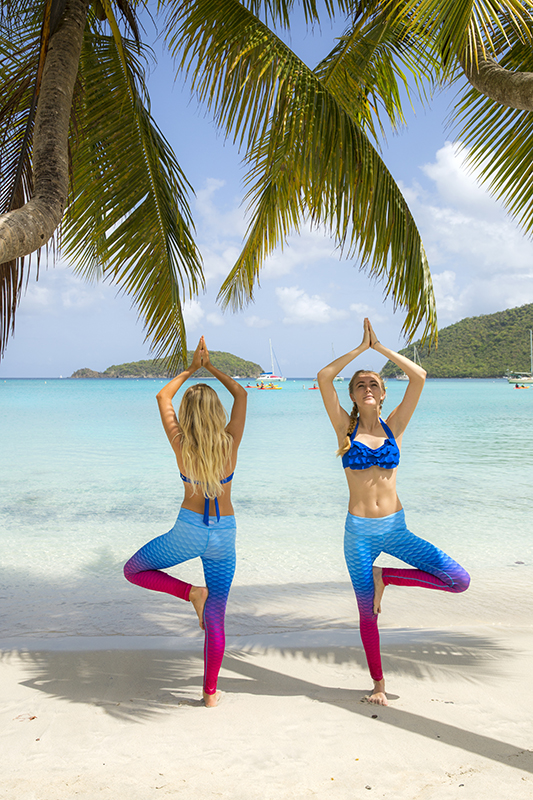 Ideal for workouts like running and yoga, these leggings in 10 vibrant styles include a hidden pocket for storing necessities like keys and MP3 players. Plus, they come in sizes for kids so you can "own" the mommy and me scene wherever your land legs take you!
Mermaid Beach Dangle Décor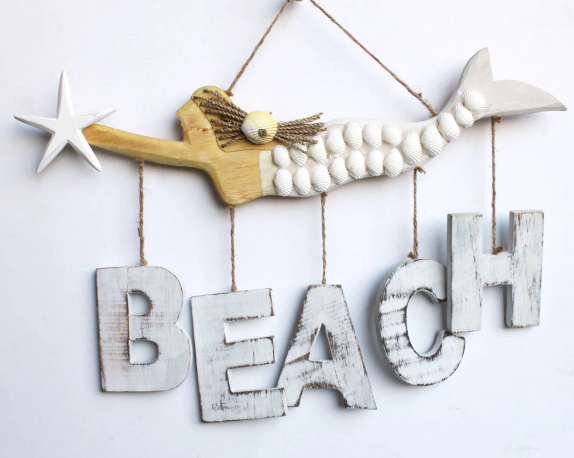 Dress up your current home décor with this whimsical beach sign made of natural wood, seashells, and other earthly elements. You don't have to be a beach bum to appreciate this appealing work of art!
Mermaid Expandable Necklace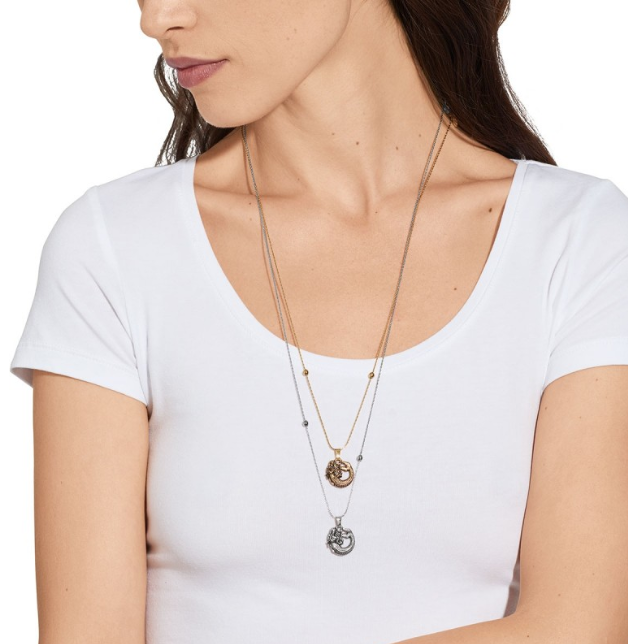 Add a touch of mermaid jewelry to your wardrobe with these captivating necklaces available in two finishes: eco-friendly rafaelian gold and silver. American-made and adjustable from choker size up to 32" in length, you'll want to snag one of each for added appeal!
Fin Fun Blue Neoprene Tote Bag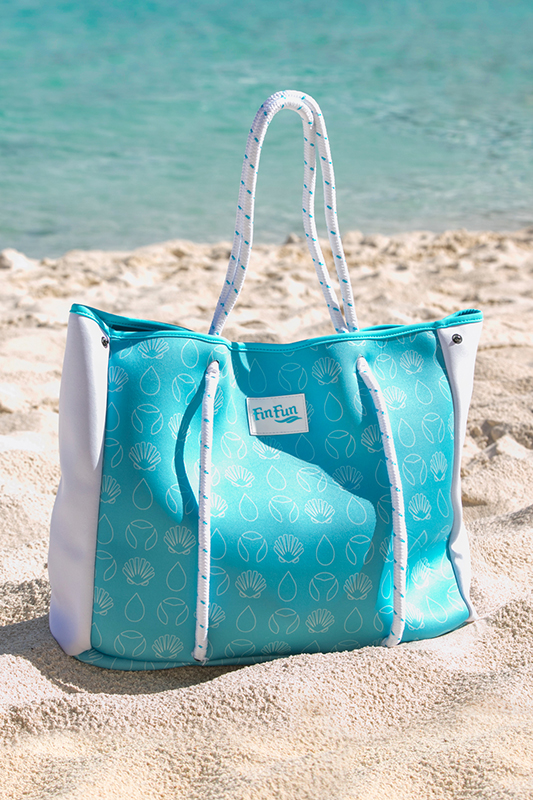 Mermaid moms need a big enough beach bag to store their family's wet swimsuits, lunches, toys, and more—and this mermaid neoprene bag is just the right size! It includes handy features like a magnetic closure and cord straps, plus the inner plastic bottom adds structure to help contain the contents of the bag.
Mermaids Blu-Ray Edition (1990)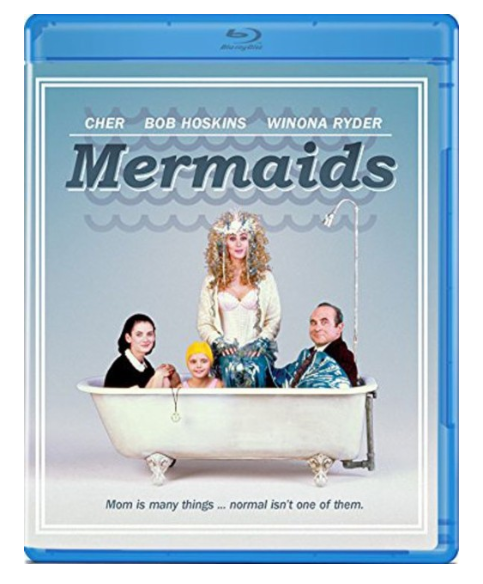 One of the greatest mermaid movies of all time has just been released on Blu-Ray DVD! Get this classic comedy featuring an all-star cast of celebrity favorites, then plan your next film fest from the comfort of your own home. Take your viewing experience up a notch by visiting our "Mermaid Munchies" board on Pinterest for tasty treat ideas!
Fin Fun Limited Edition Swimmable Mermaid Tails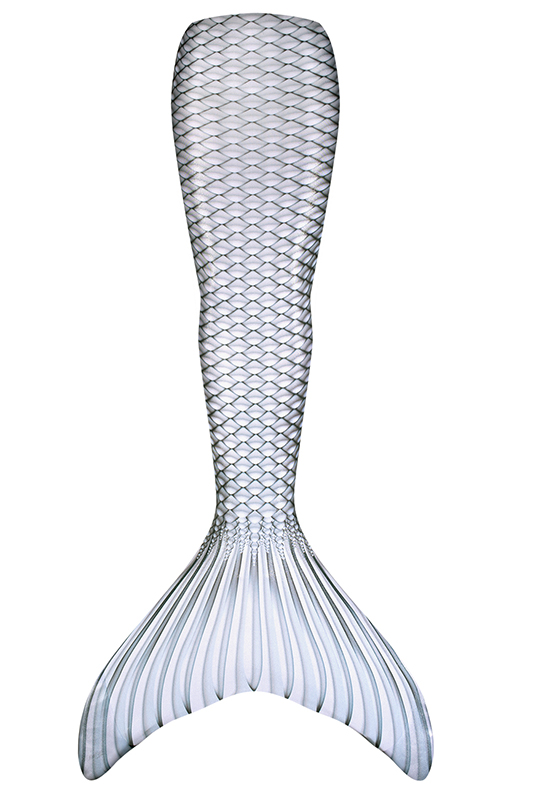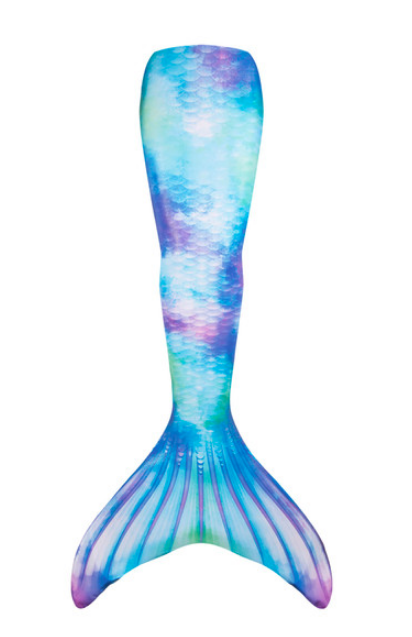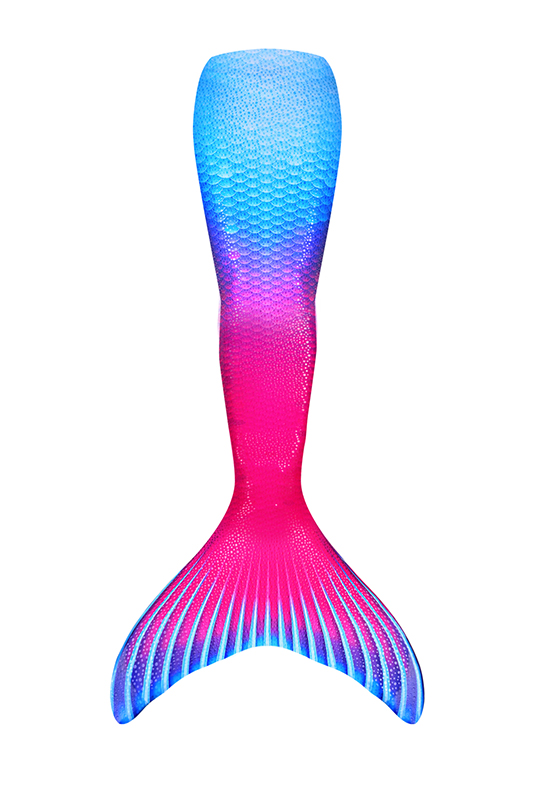 Buy at Fin Fun
A Mermaid mom who loves to swim needs a swimmable mermaid tail of their own! Featuring fun patterns in premium swimsuit fabric that's cool for the summer, Fin Fun's mermaid tail designs include dozens of styles, from the monochromatic to the multicolored.
Jackpot Candles Mermaid Daydream Bath Bomb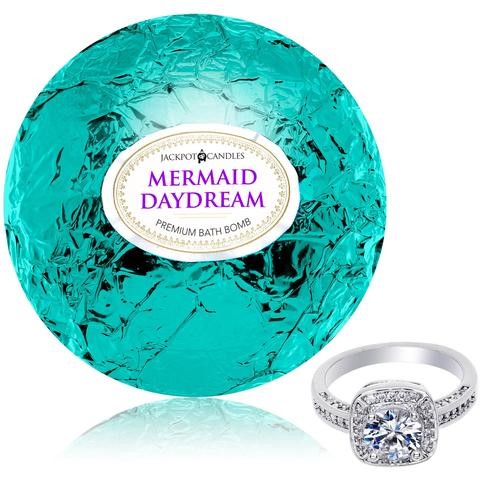 Relax after a long day of work (or play) with the soothing scents of citrus, spearmint, and floral notes emanating from this luxurious mermaid bath bomb! Keep an eye on the fizzing action, so you can grab the ring from the center once it's dissolved! Best of all—you get a chance at discovering a ring worth $5,000!
If you want to create your own mermaid themed bath bombs, check out these DIY bath bombs.
Mermaidful Mermaid Box Subscription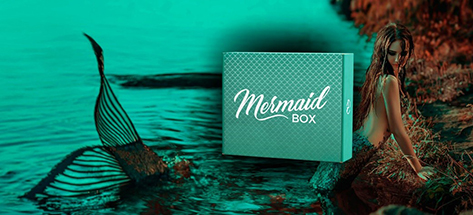 Keep the mermaid goods coming all year long with a monthly box subscription! You'll receive a curated box full of mermaid-themed thingamabobs—from clothing to accessories. The company's very first box launches in May, so swim to the site now to get your order coming!
Swimline Seashell Island Pool Float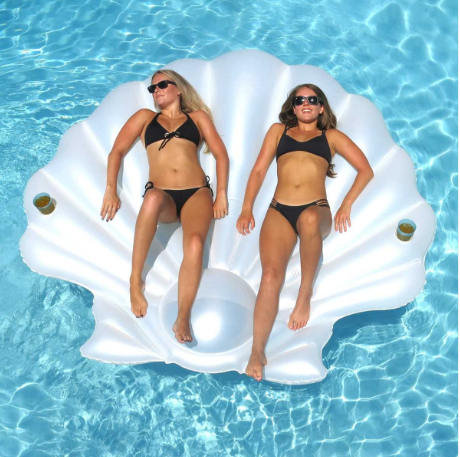 Moms who need a break, need this pool float! Feel your cares melt away as you drift across the water on a giant inflatable that's built for two! But that doesn't mean you HAVE to include anyone else in your "me time."
Front Porch Mermaid Crossing Rug by Liora Manne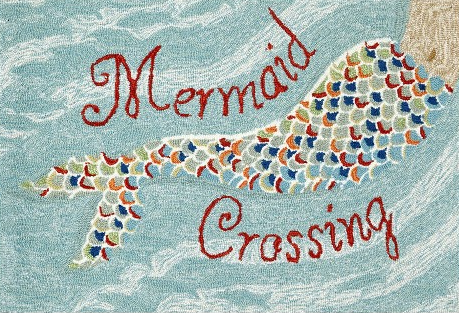 Rugs are always a welcome gift, especially in the springtime as the ground thaws and the greenery awakens for the upcoming seasons. This doormat with a special mermaid message will make guests stay awhile with its beachy colors and whimsical lettering.
Meara the Mermaid Swimmer Statue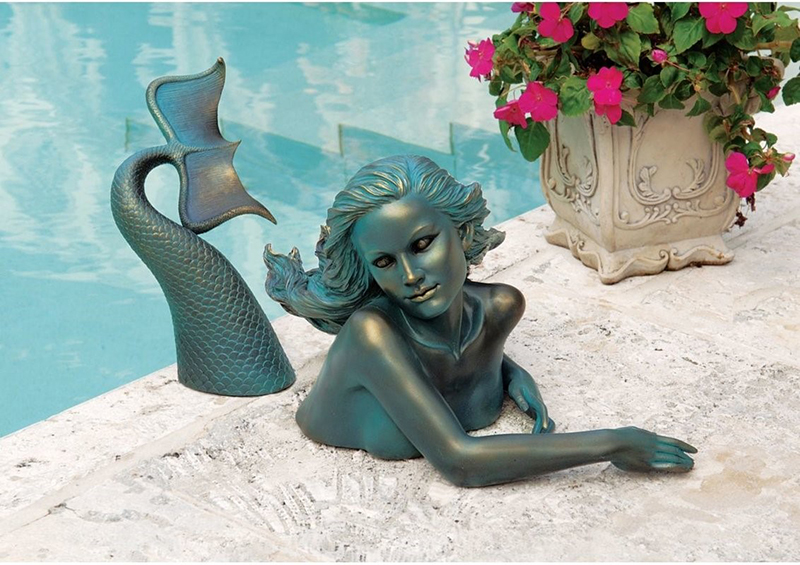 Immerse yourself in the mermaid life with this garden art that looks stunning in your flowerbeds or lawn—even poolside! This two-piece statue is cast in a quality designer resin/verdigris finish, so you'll be able to enjoy the scenery for years to come!
Slouchy Holographic Sequin Western Boots in Mermaid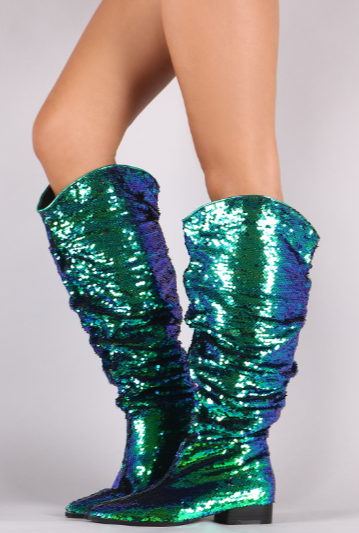 Make a scene at your next soiree with these fashionable mermaid kicks in a knee length! Any outfit will look complete once you've pulled on these showstoppers for a day on the town.
Surprise Your Mermaid Mom Friends
Do you like what you see? Share this Mother's Day gift guide on your social channels to ensure you get the goods you want this year! Chances are, you'll be saving your friends and family the headache of searching for the perfect gift. We even think they'll thank you!
If you need mermaid gifts for kids, check out this gift guide!