Oh, the VSCO girl trend. You've likely seen it on Instagram, Tik Tok, and other social media platforms—even if you've been hiding in your mermaid cove all summer. But if you really have no clue what we're talking about, don't fret! Read on to learn how to recognize the unmistakable signs of a VSCO girl and how you can take her trendy look to the next level with  VSCO mermaid style.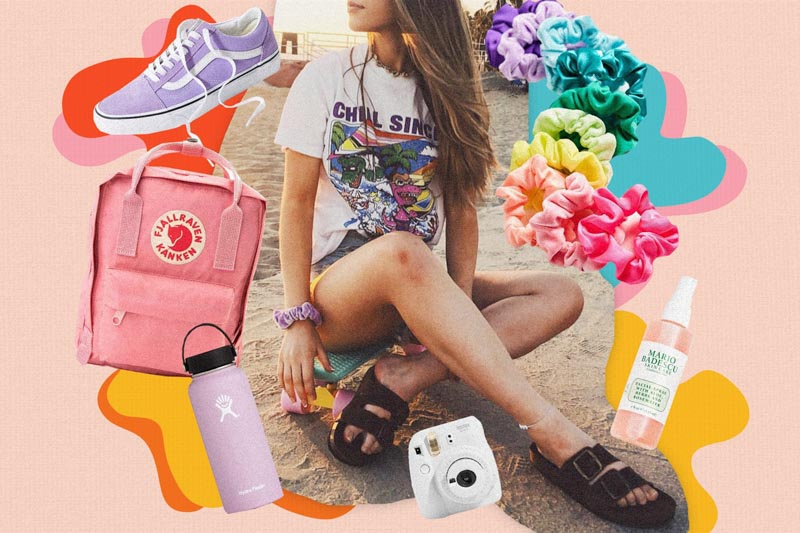 Defining the VSCO Girl
If you're truly wondering what VSCO means, here's a quick lesson. The acronym "VSCO" (pronounced vis-co) actually comes from the photo-editing and sharing app VSCO, formerly known as VSCO Cam. Short for Visual Supply Company, this app is much like Instagram, featuring preset filters that produce dreamy aesthetics.
And a "VSCO girl" is all about the aesthetics.
She'll post and share photos of her trendy, yet basic self within the aforementioned apps—and she may even include a hazy sunset in the background of her photo. This subculture of VSCO girls are mostly teens, though they're typically under the age of 25 as a whole. But how do you know if you've spotted a genuine VSCO girl?
Identifying VSCO Girl Aesthetics
A VSCO girl's style is defined as trendy basic with a beach casual vibe. She's channeling serious '90s vibes with scrunchies (usually around the wrist), oversized tees, puka shell necklaces and beaded bracelets.
A VSCO girl's look is very natural when it comes to makeup. Clear lip gloss and mascara for the win!
A VSCO girl's accessories are highly brand-focused, often including items like Hydro Flasks (adorned with loads of stickers), Birkenstocks, Crocs, Fjallraven backpacks, FujiFilm Instax cameras and the like.
A VSCO girl is an environmentalist at heart. She cares enough about the state of the world to forgo single-use plastics for Hydroflasks and metal straws. She is likely passionate about saving the turtles, whales and other ocean creatures at risk.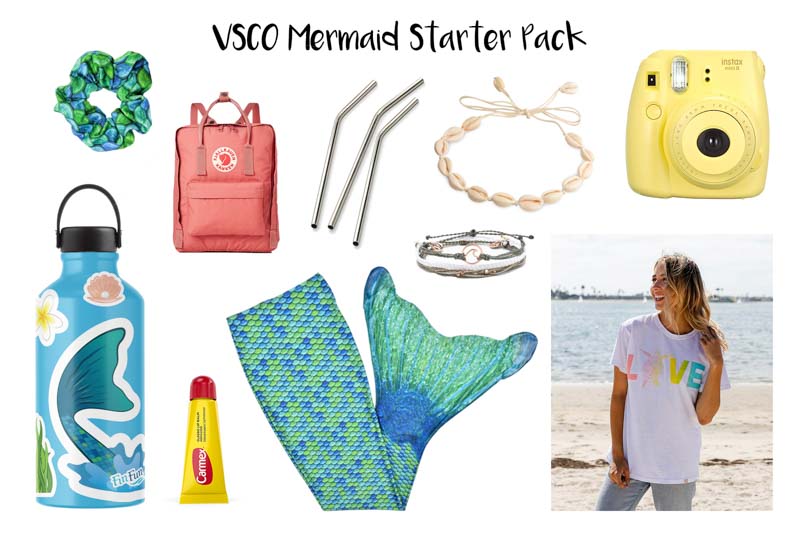 Now that we've established the characteristics of a VSCO girl and what her look entails, you're ready to make your VSCO mermaid transformation EXTRA spe-shell with a mermaid tail and some ocean-centric touches.
Be Extra: The VSCO Mermaid Transformation
One last and important thing. Remember to take a photo of your transformation using the VSCO or Insta apps with your favorite filter! What does being a VSCO girl mean to you? When did you first hear of this term? Are you a VSCO girl? Leave us your comments below (and please share your VSCO mermaid look)!