If you're a mermaid who loves video games, you've probably heard about the new mermaid set in Animal Crossing: New Horizons. The game's summer update introduces new mechanics, materials, and recipes that will make you FLIP with excitement!
Now, you can decorate your town and make it a mer paradise!
How to get the mermaid set in Animal Crossing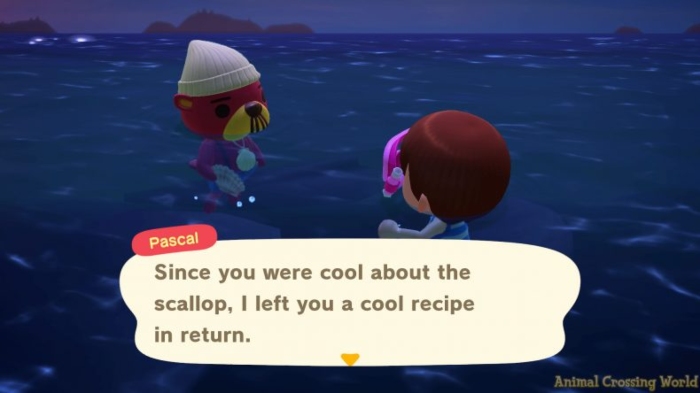 This Animal Crossing update allows you to go swimming and diving in the ocean, so starting out requires buying a wetsuit. There are several new materials you can gather from the ocean floor, but you want scallops for the mermaid set.
Pascal is a new visitor (who may be the most adorable otter ever!), and you can see him while you swim once per day. When you find a scallop, he'll randomly appear and ask for it. If you give it to him, he'll give you a pearl, DIY crafting recipe, or a clothing item.
You'll need the pearls to craft your mermaid furniture, so make sure you gather at least 20 pearls for the entire mermaid set in Animal Crossing!
Mermaid furniture and clothing list
There are 14 mermaid furniture recipes and 4 mermaid clothing pieces available in Pascal's mermaid set1. This means that there are so many exciting ways for mers to decorate and show off their fashion sense! All you need are the materials you collect from the ocean and beach, as well as a handful of stones and iron nuggets2.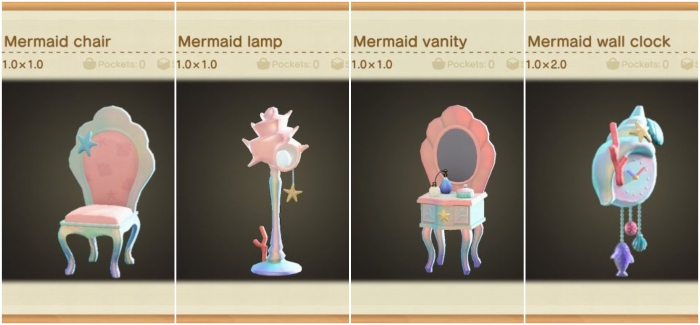 Each piece of furniture has a cutesy pink, baby blue, and white color scheme with an ethereal pearlescent finish. This makes it so you see a shimmer and slight color change when you look at it from different angles! They also feature shell, starfish, and fish shapes and patterns!
Here are all the different pieces you can craft:
Mermaid bed

Mermaid chair

Mermaid closet

Mermaid dresser

Mermaid flooring

Mermaid lamp

Mermaid rug

Mermaid screen

Mermaid shelf

Mermaid sofa

Mermaid table

Mermaid vanity

Mermaid wall

Mermaid wall clock

If you want an Animal Crossing mermaid outfit, you're in luck! This update has gorgeous mermaid apparel that will help you channel all the mermaid vibes in your town. Like the furniture, each article of clothing features pink, light blue, and white colors with beachy shell, pearl, and starfish designs!
Here are all the different mermaid clothes you can receive:
Mermaid fishy dress

Mermaid princess dress

Mermaid tiara

Mermaid shoes
Match your villager with a Fin Fun mermaid tail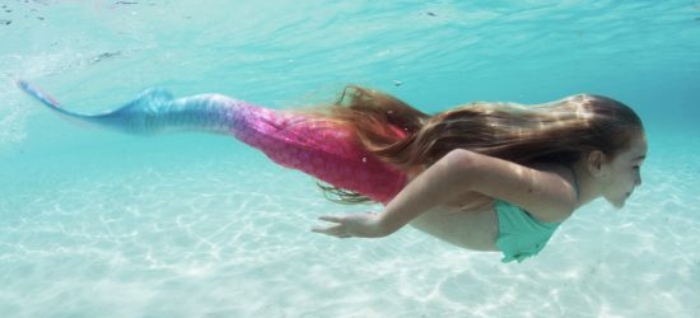 With all the fun Animal Crossing mermaid items available in this summer update, merfolk can make their home and town a tropical mermaid oasis! If you're feeling extra, you can even match a Fin Fun mermaid tail with your new mermaid set! The Bahama Blush Limited Edition tail's coral and mint hues paired with its shimmering foil layer match these new items flawlessly!
Are you going to complete the whole mermaid set in Animal Crossing: New Horizons? Tell us in the comments which pieces you're most excited about!
Also, show us how you've decorated with your mermaid items on social media when you tag @FinFunMermaid!
---
1:https://www.usgamer.net/articles/animal-crossing-new-horizons-mermaid-recipes-list
2:https://animalcrossingworld.com/guides/new-horizons/pascals-mermaid-item-set-diy-crafting-recipes/
---
Featured Image by Manny Moreno on Unsplash