Swimming all day, especially in a swimmable mermaid tail, really brings out your sweet tooth! So why not treat yourself and your pod to delicious mermaid desserts?
Catch a crunchy surprise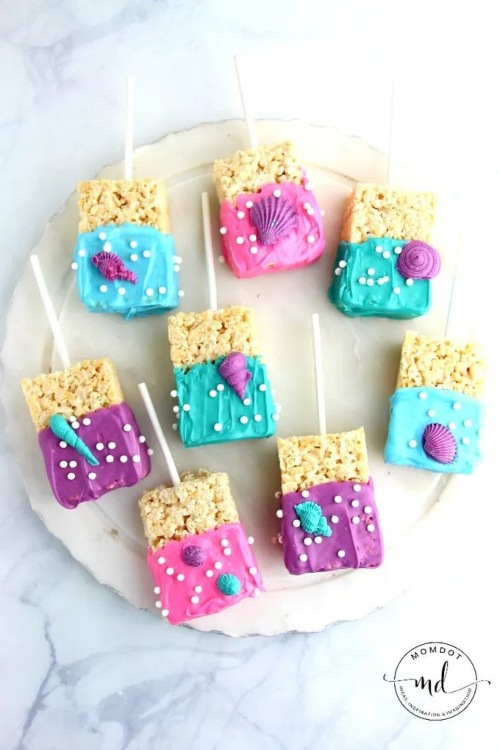 Your little guppies may not have the same taste in desserts as you, so this mermaid dessert recipe is bound to get them to bite! These mermaid Rice Krispies from Mom Dot are both adorable and delectable!
Ingredients
For the Rice Krispies:
3 tablespoons butter

4 cups miniature marshmallows (or ~40 large marshmallows)

6 cups Rice Krispies cereal
For the candy coating:
1/2 cup of each candy melt color of choice (pink, blue, teal, and purple)

1 tablespoon shortening or coconut oil per candy melt color

Pearl sprinkles
Instructions
Melt the butter over medium heat, and add the marshmallows. Stir until marshmallows are completely melted, and then remove from heat. Stir in Rice Krispies cereal until thoroughly coated. 

Spread in a pan and allow to set. Once set up, cut into 12 pieces.

Place different colored candy melts in microwavable bowls, and microwave one at a time for 35 seconds. Reheat as needed until they melt. Stir in shortening or coconut oil.

Dip each Rice Krispie treat halfway into the melted candy melts. You may need to use a spoon to help spread the candy coating to your liking. 

Add pearl sprinkles and other mermaid candies for decoration. Wait an hour before serving.
If you have extra candy melts and shell or mermaid tail molds, you can make additional decorations for your Rice Krispies treats. You can also swirl in different colors for extra mermaid vibes!
Whip up a mermaid paradise
Mermaid desserts don't have to take a lot of effort to look pretty AND taste divine. These no-bake mermaid cheesecake cups by Cupcake Savvy's Kitchen are perfect as a midday snack or after a mermaid dinner! 
Ingredients
125 grams cookies or graham crackers of choice

250 grams cream cheese

300 milliliters whipping cream

3/4 cup icing sugar

2 teaspoons vanilla extract

Gel food coloring

1/3 cup melted candy melts

Sprinkles (and other optional toppings)
Instructions
In a food processor (or in a bag with a mallet/rolling pin), blend the cookies until they become a fine powder. 

In a mixing bowl, add the cream cheese and icing sugar and beat until smooth. Then, add the vanilla and whipping cream and mix until smooth.

Separate the cheesecake mixture evenly into three bowls. Add purple food coloring to one bowl and blue food coloring to the other, leaving one bowl plain. Mix the food coloring into their respective bowls until well combined. Alternate adding the blue, purple, and white cheesecake into a piping bag. (This will give a swirl effect when you pipe it into the cups!)

Spoon the blended cookies into serving cups, and then pipe the cheesecake mixture on top of it. Set in the fridge while you make the mermaid tail toppings.

Melt your candy melts in the microwave, and pour it into mermaid tail molds. Once evenly spread, refrigerate for 10 minutes. 

Remove the molds and cups from the fridge. Pour sprinkles and other toppings onto the cheesecake, and place a candy mermaid tail on top. Then, your mermaid desserts are ready to serve!
Pop out a healthy treat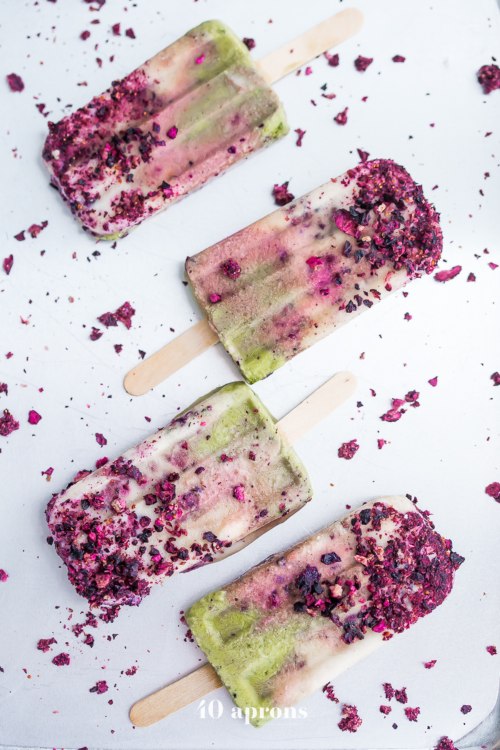 Are you looking for mermaid dessert ideas for pod members that are health-conscious or vegan? Take a look at these mermaid popsicles from 40 Aprons for a mermaid twist on a classic treat!
Ingredients
12 ounces fresh blackberries

1 14-oz can + 1/2 cup full-fat coconut milk 

1/4 cup + 1 tablespoon honey (or agave nectar if vegan)

1 teaspoon matcha powder

1/4 teaspoon vanilla extract

1/3 cup freeze-dried blueberries (optional for garnish)
Instructions
To start, preheat the oven to 425 degrees Fahrenheit. Place the blackberries on a lightly greased baking sheet, and use your hands to coat with 1 tablespoon of honey. Roast the berries for 15 to 20 minutes so that they're soft, and remove them from the oven. Smash them with a fork and set aside to cool.

Next, combine the coconut milk, 1/4 cup honey, and vanilla. Divide into three bowls.

Pour one of the bowls of the coconut milk mixture evenly into your popsicle molds, and freeze 10 to 15 minutes.

In one of the other bowls, mix in the roasted blueberries. Then, pour evenly into the molds and press with a popsicle stick to create a light swirl between the two layers. Freeze for 10 to 15 minutes.

In the last bowl of the coconut mixture, add the matcha powder. It'll prevent clumps if you mix it little by little. Add to the popsicle molds and create a light swirl with the blueberry layer. 

Insert popsicle sticks and freeze until solid (about 3 hours). To remove for serving, place the mold in warm water for a few seconds. Then, dip the popsicle into crushed freeze-dried blueberries and serve.
Trade your voice for this cone
These Little Mermaid desserts from Fantasy Food Show are perfect for Disney-obsessed merfolk! But hey, these aren't just mermaid desserts for kids—the whole pod will enjoy them!
Ingredients
Your favorite ice cream flavor

Edible green color mist

Waffle cones

Candy or chocolate seashells

Edible green luster dust

4 ounces white chocolate

2 tablespoons coconut oil

Oil or powder red food coloring

Cherry candy flavoring
Instructions
Spray the color mist onto the waffle cone. (It can get messy, so try spraying in a shoebox or paper bag.) While still wet from the spray, use a paintbrush to add the luster dust. Set aside until ready to add the ice cream!

Melt the chocolate and coconut oil in the microwave in short bursts, stirring between, until melted. Add the cherry flavoring and red food coloring mix well. (If it starts to set up before you're ready to use it, re-melt it in the microwave.)

Now, you're ready to assemble your Little Mermaid ice cream cone! Place two scoops of ice cream in the waffle cone, and place two seashell candies on the ice cream to mimic her bikini. Pour the chocolate magic shell on top to create her iconic red hair, and serve immediately. Your ice cream cone will look just like Ariel, and it'll taste mermazing too! 
Mesmerize guests with meringue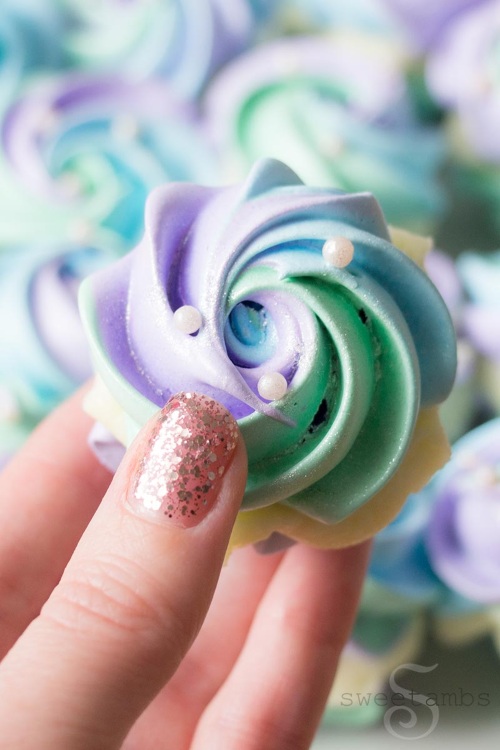 Do you need mermaid party desserts to wow your guests? These mermaid meringue cookies from Sweetambs encapsulate mermaid dreams in small, scrumptious bites!
(See the website for full ingredients and instructions.)
Ingredients
For the cookies:
Meringue (see website for recipe)

Liquid-gel food coloring

Sugar pearls

Edible luster dust

Ganache filling (see website for recipe)
Additional supplies:
Large decorating bags

3-color coupler

1M star tip

Brush
Instructions
Make your meringue and separate it into three bowls. Mix blue, teal, and purple food coloring into their respective bowls so you have three different colors of meringue.

Add the meringue to a decorating bag with the 3-color coupler and pipe onto a parchment paper-lined baking sheet. 

Bake the cookies for 90 minutes to 2 hours at 185 degrees Fahrenheit. When done, they should be dry and sound hollow when tapped. Set aside to cool.

Make ganache filling as directed and put between two cookies to make a sandwich. 

Brush the cookies with edible luster dust and add pearls. Then, your mermaid desserts are ready for serving!
Make mermaid desserts worth sharing!
Whether you want to make a sweet treat for yourself or your whole pod, these mermaid dessert recipes will be fun for everyone! Sink your teeth into something crunchy, or cool off with a frozen treat. Whatever you decide to do, do it with a mermaid-inspired flair!
Which mermaid dessert are you willing to swim across the seven seas for? Tell us in the comments!
Did you know that there are also mermaid recipes in Animal Crossing: New Horizons? Take a look at how you can also channel your mermaid vibes in a video game!