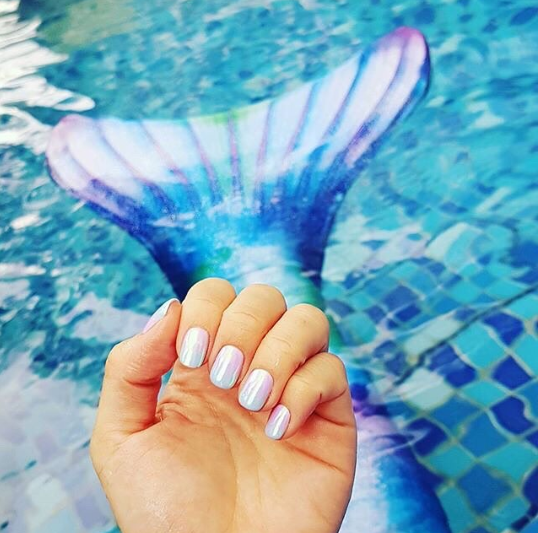 Do you want to live the mermaid life like never before? Enhance your look by coordinating fashionable mermaid nails with your favorite mermaid tail! Need we say that getting your nails done is fun? It's so obvious! The fun factor comes not only from choosing your most coveted color, but also from the chance to connect with your fellow merpals as you unite in the spirit of mermaid fashion together! Plus, you don't have to be in your tail to show off your mermaid nails!
The design you choose will make a perfect conversation starter, giving you the opportunity to say you are an official Fin Fan of Fin Fun! Ready to get started? We've already done some of the work for you. Keep reading to discover our tail-inspired mermaid nail designs.
Dress up your coral tail with nails of the same hue, accented with a pop of gold! The index finger makes an ideal choice for a noticeable splash of color. Paint it a solid shade of gold, then transition to a scale pattern on the next finger over a light coral hue for visual interest. Finish your mermaid nails with solid coral tones for an immaculate look.
Get that glitter polish out! The galaxy trend is here to stay—at least for the time being, and we love this glamorous take on glitter nails bookended by solid colors. Deep purple and blue tones full of sparkles set the scene for an out-of-this-world look in gradient shades of color.
| | |
| --- | --- |
| | Original Source Unknown |
Ombre tails are still trending in the mermaid world, and you can add an unexpected twist to your nail design with half-moon nail art. Decide which color you'd like to highlight the most—coral or mint—then apply a solid layer to the middle finger. Now you can add those fine touches of color to the rest of the nail tips, and don't forget to create your half-moon design just above the cuticle of your ring fingers!
| | |
| --- | --- |
| | Photo by FabFashionFix.com |
This hot pink and ocean blue color combo reminds us of summertime. Maybe that's why this particular Limited Edition tail is one of our best sellers! Get those hot hues onto your nails stat! You may want to recruit a professional nail tech to capture the exact design of these stylish nails. But you can always try your hand at recreating the look with the right colors!
These multicolored nails look so much like our best-selling Limited Edition tail, it's almost surreal! Once you've "nailed" this design, don't forget to grab your phone and squeeze in an epic selfie that showcases your nail + tail color combination. (Look here if you need mermaid photo shoot tips!)
If you're searching for the ultimate color combination in a pattern that replicates our Limited Edition tail, look no further than this dazzling nail design! Rainbow waves for days that sparkle like the tail itself will make you the main attraction at your next mermaid outing!
You don't have to be an Aussie from the land down under to rock this fusion of blues and greens. True to mermaid style, these ocean-inspired mermaid nails with a soft scale pattern evoke trendy, yet timeless vibes. Add a few crystal gems on your ring finger to "polish off" this look.
This unique pattern looks just like a turquoise gemstone, with its dark, lace-like pattern inspired by nature! That's why we think its blue-hued base looks MER-mazing topped with an intricate pattern of black polish and sealed with a shiny, subtle sparkle.
Go for a bolder look with this fusion of fiery orange and yellow nails in a longer length! Drawing from the dramatic colors of a sunrise, this eye-popping combo is the color of happiness on a warm summer day.
This gelish nail design topped with magenta and purple foil is a spectacular way to showcase the underlying tones swirling within your purple-hued tail. In fact, its 3D pattern is known to have a mesmerizing effect on all who gaze upon its design.
Match Your Mermaid Nails to Your Scales
Now that you've seen some nailspiration, we'd love to see how your designs turn out! Tag us with #FinFun on Instagram for a chance to be featured on our social channels! And don't forget to follow us on Instagram. Don't see your Fin Fun tail? Check out these scale-inspired nails or leave a comment below and we'll help you find a nail design to go with it!