Piece together a look for your mersona with mermaid nails! They'll pair perfectly with your swimmable mermaid tail, and you can rep your mermaid look when on land too. These six mermaid nail art designs come with tutorials, so any mer can rock the look of their dreams!
Try your hand at freehand
Do you have a steady hand? If so, you can paint mermaid scales on your nails without using fancy tools and stencils. These three nail art tutorials show that even imperfect scales look amazing with a dash of glitter and topcoat!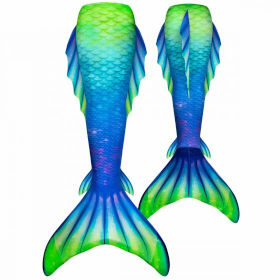 1. These beachy blue and green nails will sparkle just like your glistening mermaid tail! And the painted white scales highlight each glittering color. Feel free to change up the colors to match your unique scales, but this color scheme matches the Northern Lights Atlantis mermaid tail beautifully!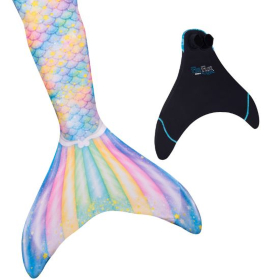 2. If you're a pastel mermaid, this mermaid nails DIY tutorial is for you! These nails feature beautiful pastel pink, purple, yellow, and teal, as well as gorgeous flecks of holographic glitter. It also matches the Sweet Dreams Limited Edition mermaid tail!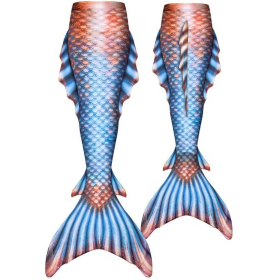 3. These nails look fresh from the beach with hues reminiscent of the ocean meeting the sand. Add the same shell and pearl-like additions like this tutorial, and your nails will look just like your favorite seaside vacation spot! If you want to match your tail with this look, try the Bronzed Emerald Limited Edition tail or Bronzed Sapphire Atlantis tail.
Be a sucker for scale stickers
If you have access to nail art stencil stickers, you can easily make your nails look professional. As these mermaid nail art tutorials demonstrate, this method is incredibly versatile!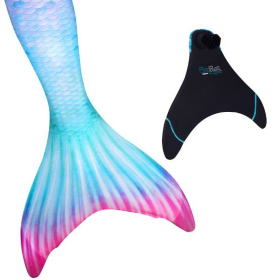 4. Your nails can bring the mermaid vibes without having every nail painted with scales. This tutorial uses gold and glitter nail polish to make your nails look like you've dipped them in the sand. You can change the colors however you wish, but this color scheme is the perfect match to the Fiji Fantasy Limited Edition tail!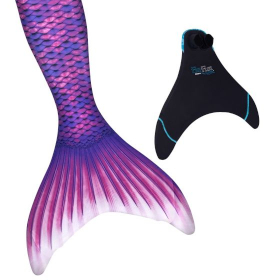 5. Be adventurous with these watercolor mermaid nails! A stencil allows you to add the colors you want and play with them without fear of messing up the look. This color scheme is also fitting if you want to match the Asian Magenta Mermaidens tail's refreshed design!
Revamp your scales with a stamp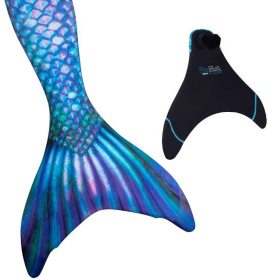 6. If you have nail art stamps, you can make all your mermaid nail ideas come to life! This tutorial uses glittery blue and teal polish to create a look as mysterious as the ocean's depths, which is a great pair to the Ice Dragon Limited Edition tail!
Match your mermaid nails to your Fin Fun tail!
With the perfect nails to match your mermaid tail, you're ready to dive into another adventure and make waves! These tutorials are great for mers of all skill levels, so give it a shot and share your results with us on social media. Be sure to tag us, @FinFunMermaid, so we see it!
Looking for a mermaid hair tutorial to complete your mermaid transformation? Find your inspiration here!
---
Looking to save on a Fin Fun Mermaid Tail? Find the tail of your dreams at a discount!