Maybe you've been following Fin Fun's latest posts on Facebook and Twitter, maybe not. What's important is that if you missed our big announcement, you better brace yourself for this tidal wave of excitement!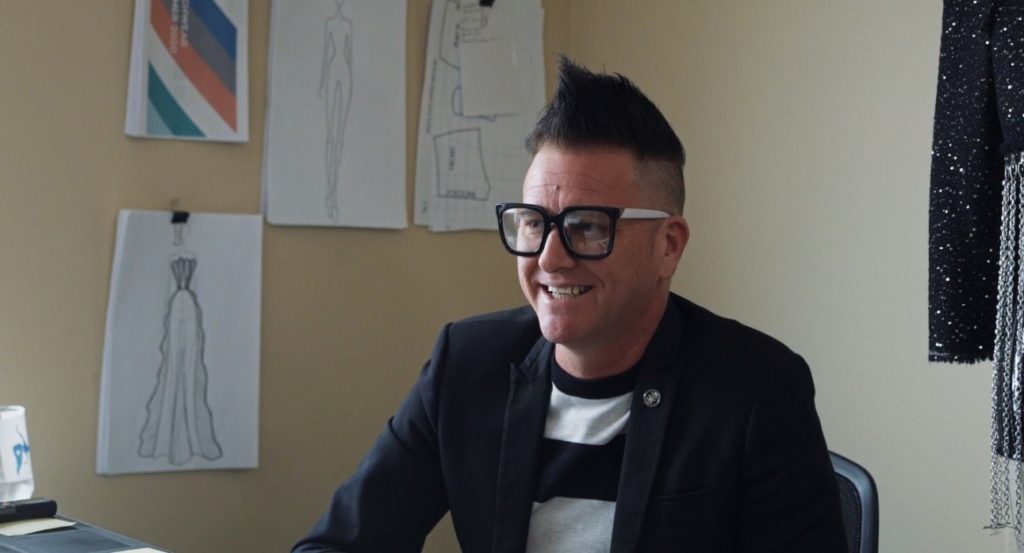 The rumors are true! None other than SETH AARON HENDERSON has joined Fin Fun as Lead Designer!
"Not only does he bring years of experience in the fashion industry, he brings a fresh perspective to Fin Fun's growing apparel business," said Steve Browning, President and CFO of Fin Fun.
"We are excited for what the future holds and can't wait to see how his creativity unfolds."
Project Runway Star
Seth Aaron recently starred in Season 7 of "Project Runway All Stars," which debuted Jan. 2, 2019 on Lifetime. This year's spinoff of the Emmy-award winning "Project Runway" featured 14 victorious designers who had won previous seasons of the U.S.and international versions of the show.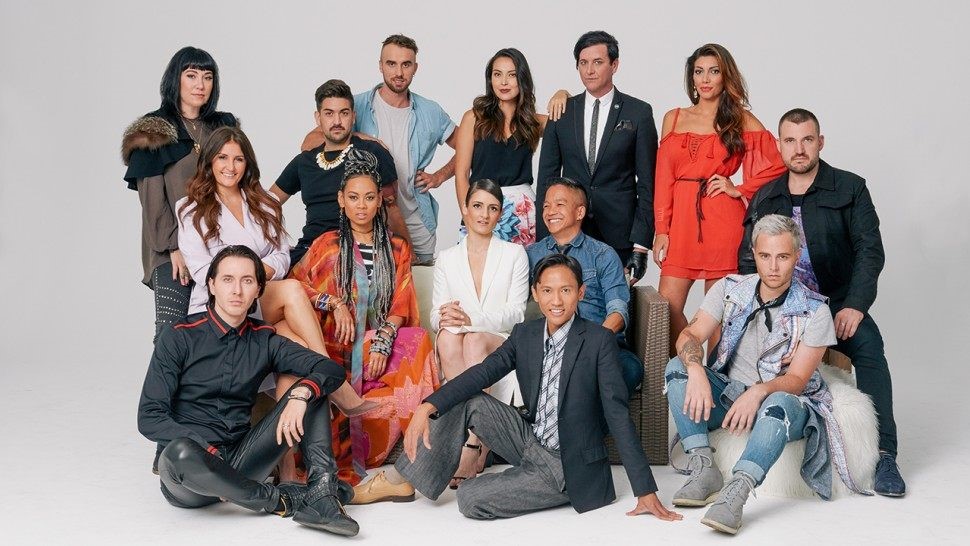 He was no stranger to the series, being a two-time winner himself, on both "Project Runway" Season 7 and "Project Runway All Stars" Season 3, as well as appearing as the head casting judge working alongside the show's fashion mentor Tim Gunn during "Project Runway" seasons 8-11.
If you haven't watched the current season, you'll have to spend some downtime in your grotto to discover which designer won the championship title! You're not going to find any spoilers here!
Watch now or check out Seth Aaron's interview on Fin Fun's YouTube channel!
"I've done a lot of stuff, I've been a lot of places, and it's time for a new chapter," said Seth Aaron, speaking about joining the Fin Fun team.
"I live in a whimsical world. I have my own world in my head and coming into a company that's founded on mermaids is right up my alley. It's not out of my box at all."
Mermaids on the Runway
Seth Aaron's new role at Fin Fun inspired his latest runway collection featuring nine high-fashion looks channeling the mythical world of mermaids—which has a reputation for being beautiful, mysterious, and even dangerous.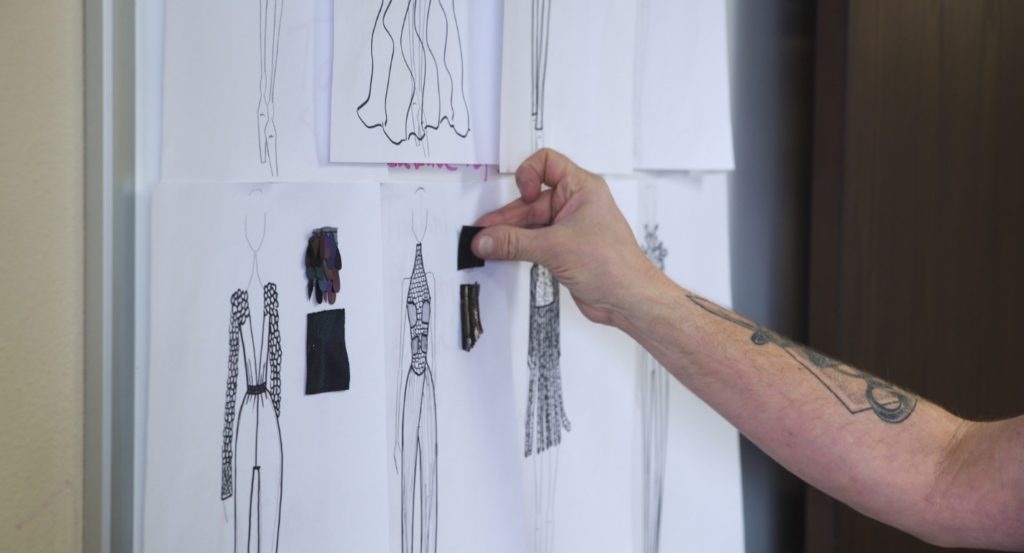 His siren-themed collection debuted March 19 during Fashion Week El Paseo, the West Coast's largest consumer fashion show held in Palm Desert, Calif. produced by Palm Springs Life. As you can see, his collection was featured as part of Michael Costello's show, where he reunited with several of his Project Runway friends.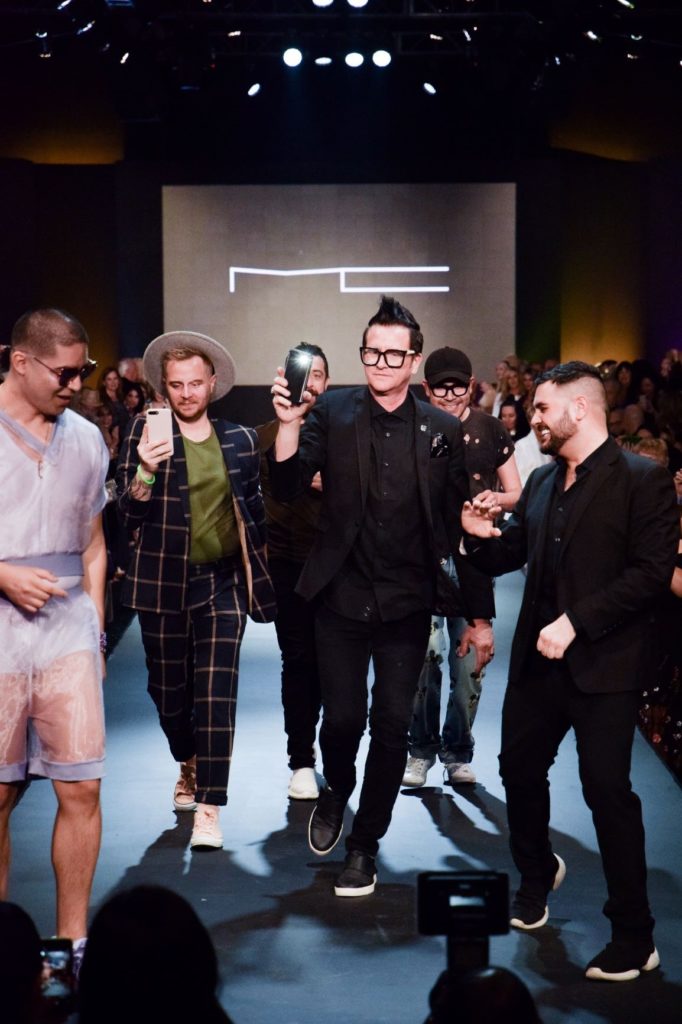 During an exclusive in-house interview, Seth Aaron explained how he views his new role at Fin Fun as a new chapter and how mermaids helped his runway ideas come to life.
"I was able to draw inspiration from sirens in Greek mythology and put out a collection that represents me as people know me, but ultimately relates to the company that I'm now working with."
"That's how I made the connection and I didn't find it hard to connect the dots."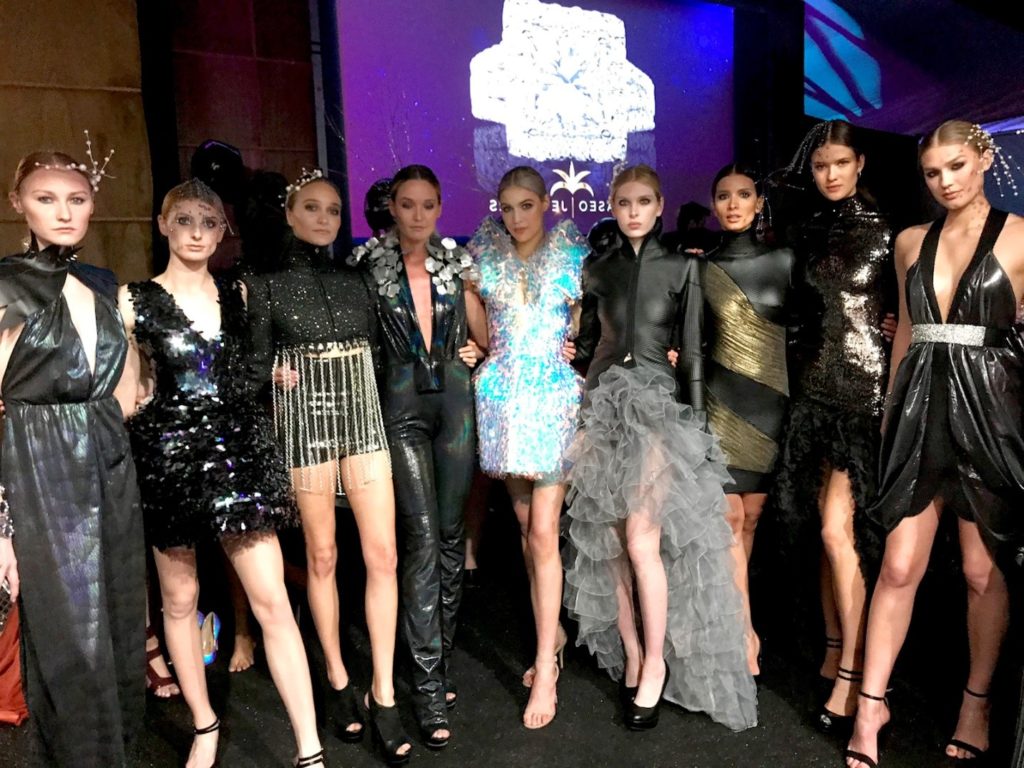 His runway collection featured ten unique looks that each had special time in the spotlight. Which design is your personal favorite? Keep reading for a descriptive highlight of each design! All runway photos courtesy of Anna Hattis, unless otherwise stated.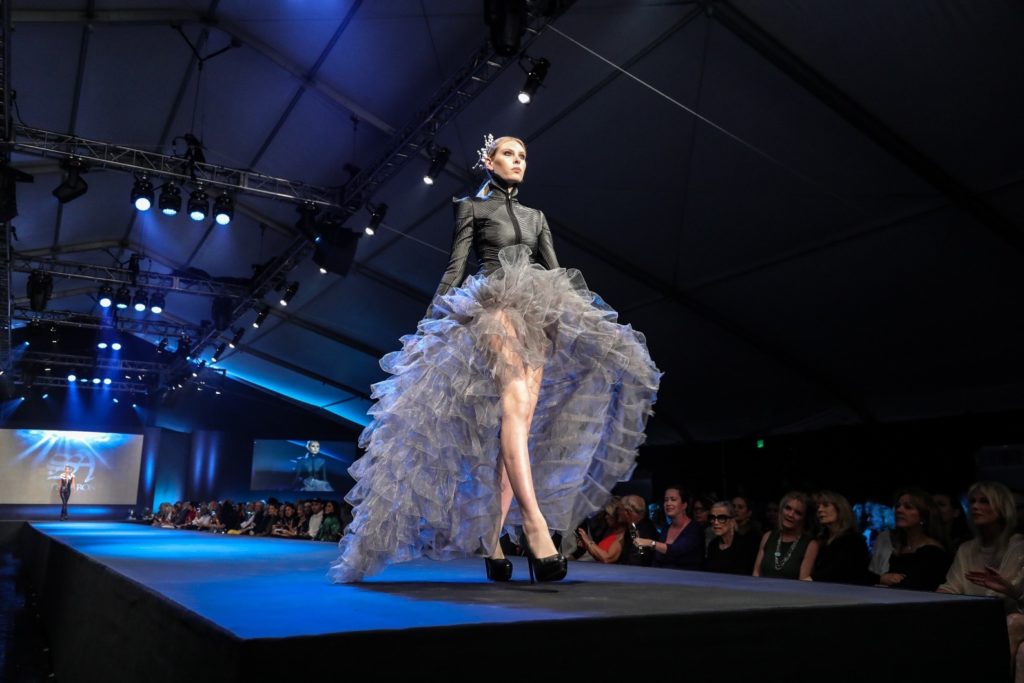 Drawing from elements of the ocean and his fascination with aquatic life, Seth Aaron's first look featured a channeled PVC zipper jacket paired with an organza ruffle skirt. Who knew that the skirt was in fact inspired by shell fish & cloudy water?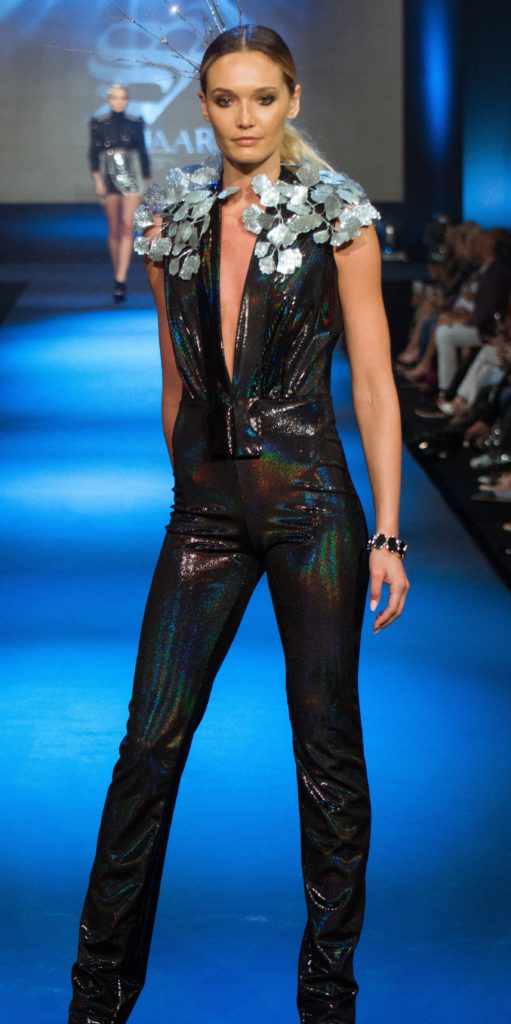 See how the holographic scales of this Lycra jumpsuit featuring silver accents resembles fish skin and ocean floor vegetation? It's just one of many sea-themed looks flowing through this runway collection.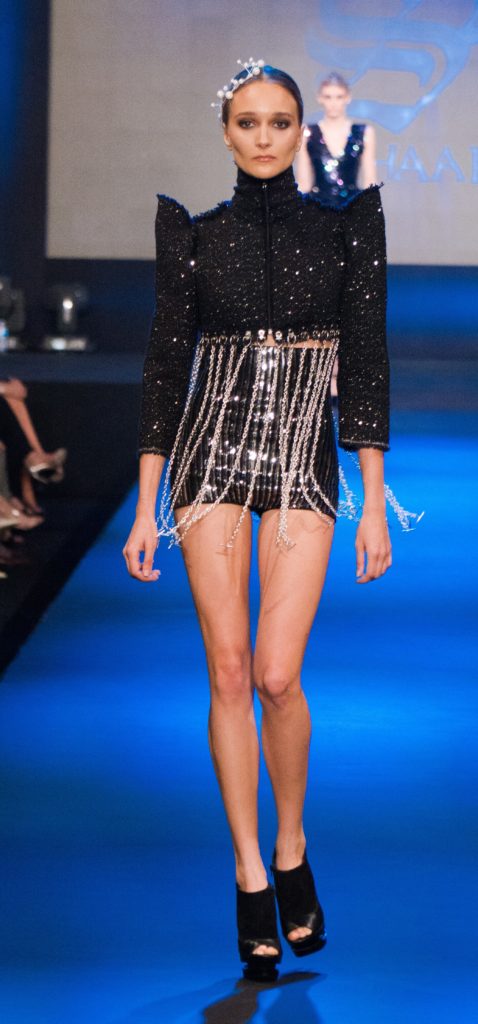 Whether you're gazing out at a shipyard or watching the latest fashions walk down the runway, do you ever stop to think how many different ways your environment could be interpreted? For Seth Aaron, this particular look featuring a cotton-blend sequined jacket with chain detail hanging over a sequined high-waist hot pant was actually inspired by fish scales and shipyards.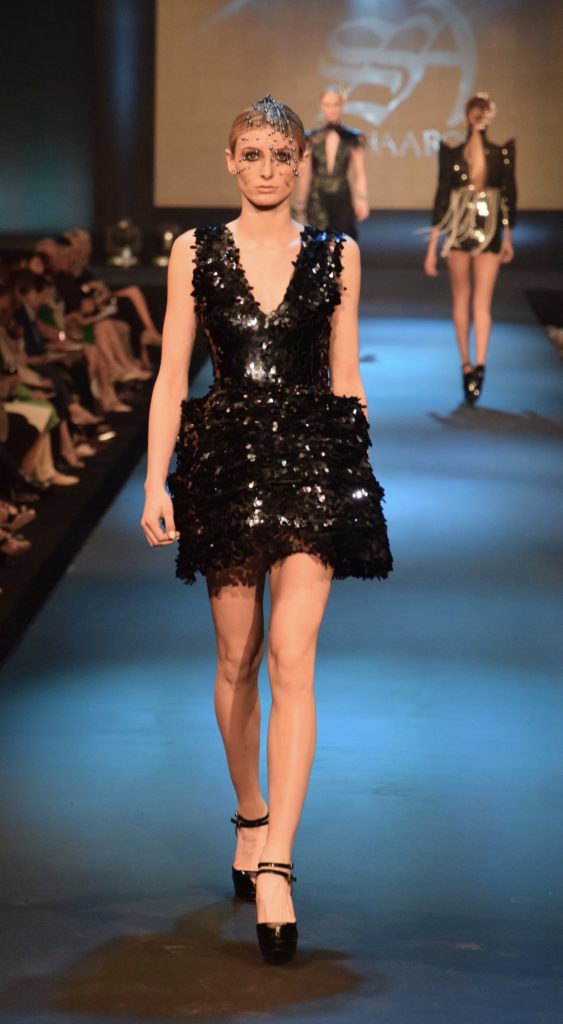 Call it a cocktail dress, a little black dress, or a shiny showstopper—this bold look made entirely of black sequins began with a vision of sea urchins.
"I love fish, sea urchins—I just love the whole world," said Seth Aaron. "When you have the chance to go underwater in a sea life environment, it's like you're in a different world."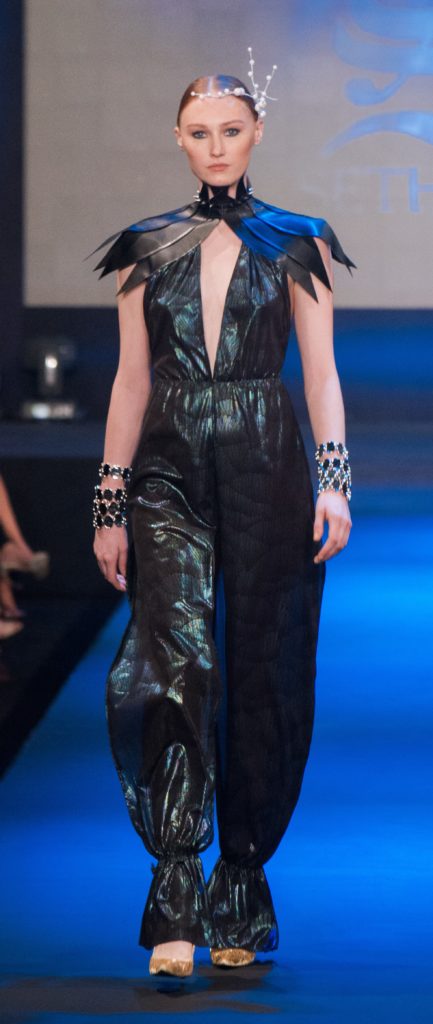 This printed jumpsuit with leather and stud details graced the runway so effortlessly, we were nearly hypnotized by its details that channel mermaid tail skin and sea kelp. Are you even a mermaid if you're not sporting (and even snacking on) seaweed of some kind?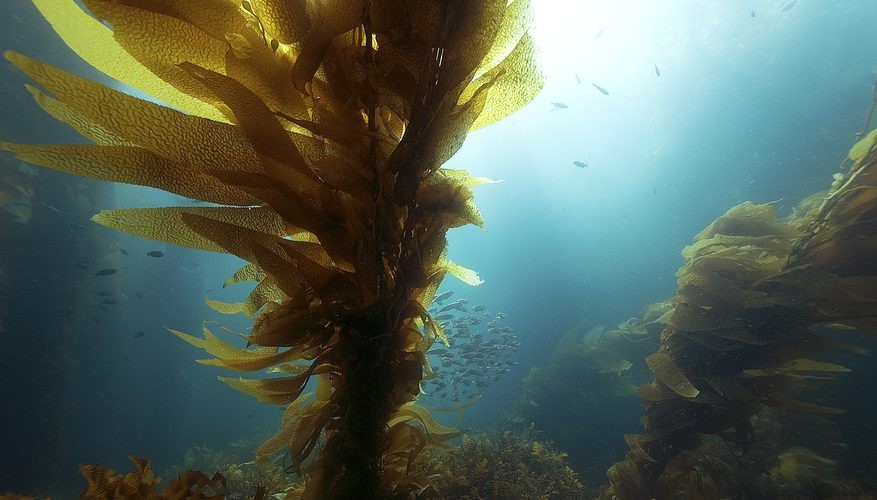 The shimmery colors and curvy textures of an oyster shell played an integral part in this luxurious look starring a fusion of gold and black crafted from a combination of PVC and ridged silk. The way the dress hugs the model's frame reminds us of the way an oyster shell closes around its opalescent pearl.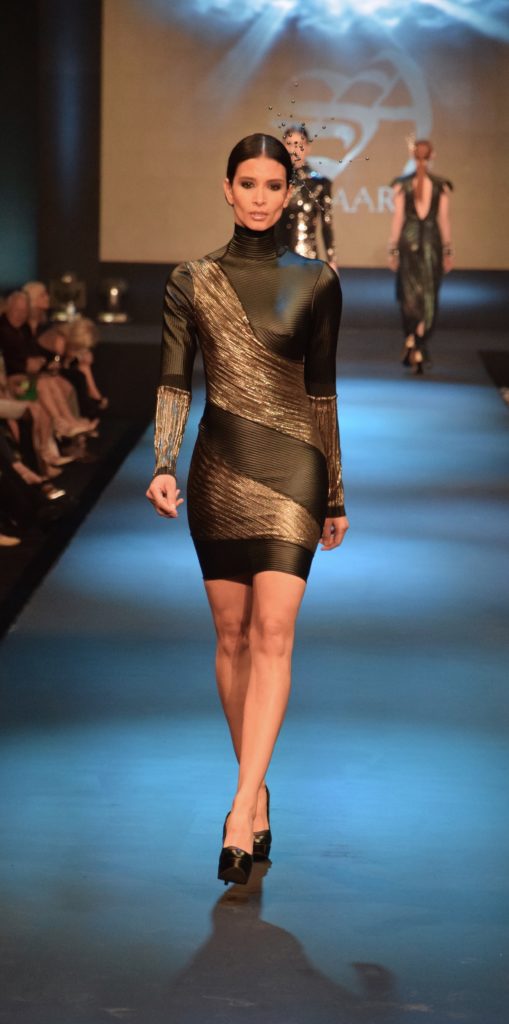 This silver and mesh dress inspired by natural black pearls has us hooked! It shows just the right amount of leg, with gorgeous fabric that gathers around the thighs, accented by a jewel-encrusted belt. Notice how the sparkling hair accessories in each photo truly solidify that emerged-from-the-sea look.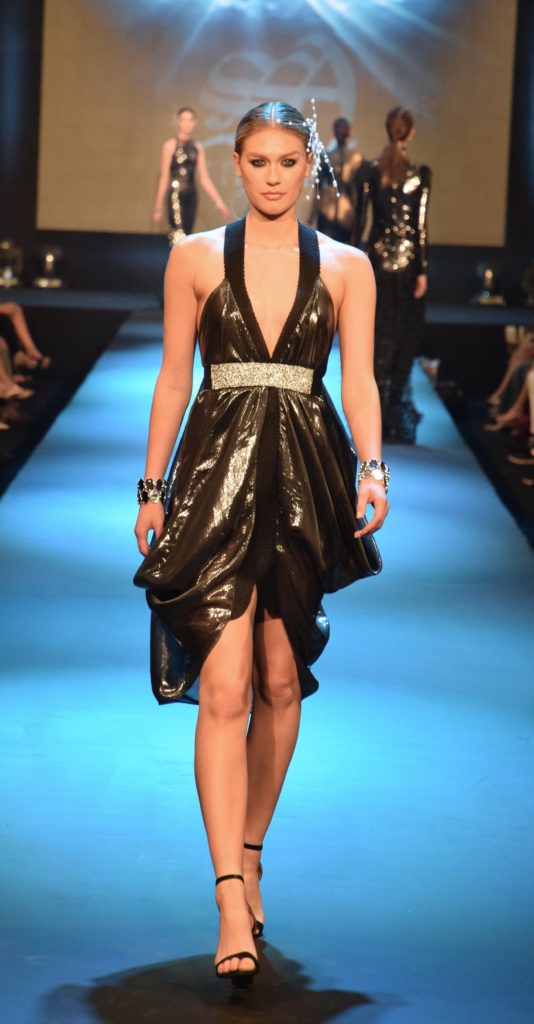 Seth Aaron's affinity for dark colors comes full circle with this elegant design featuring embossed black leather detail woven into a gown of sequins.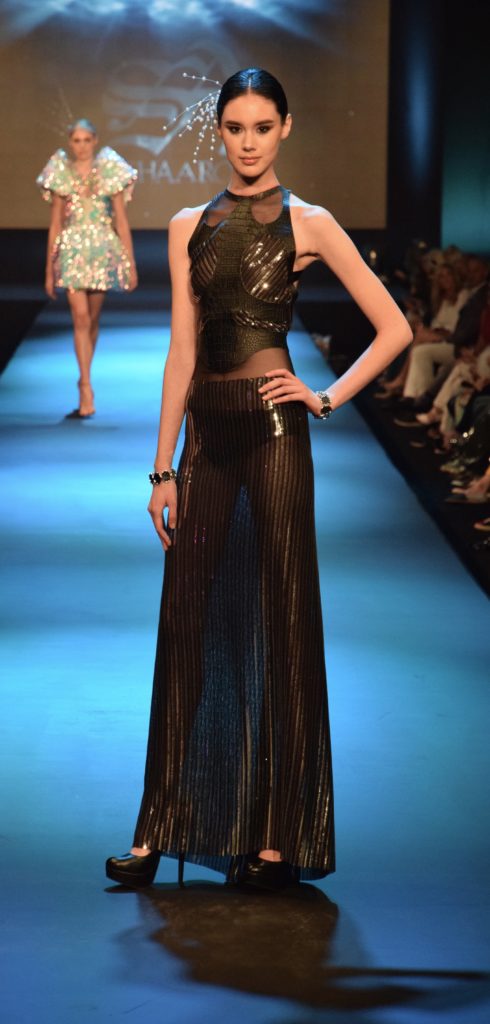 Does fish skin feel like mermaid skin? How would you describe the feel of a real mermaid tail? Sleek, shiny, shimmery, seductive—even slimy? Imagine a sinister siren emerging from her dark abyss to lure unsuspecting sailors to imminent death, and you get Seth Aaron's interpretive design featuring a dark sequined dress with a silk ruffle train.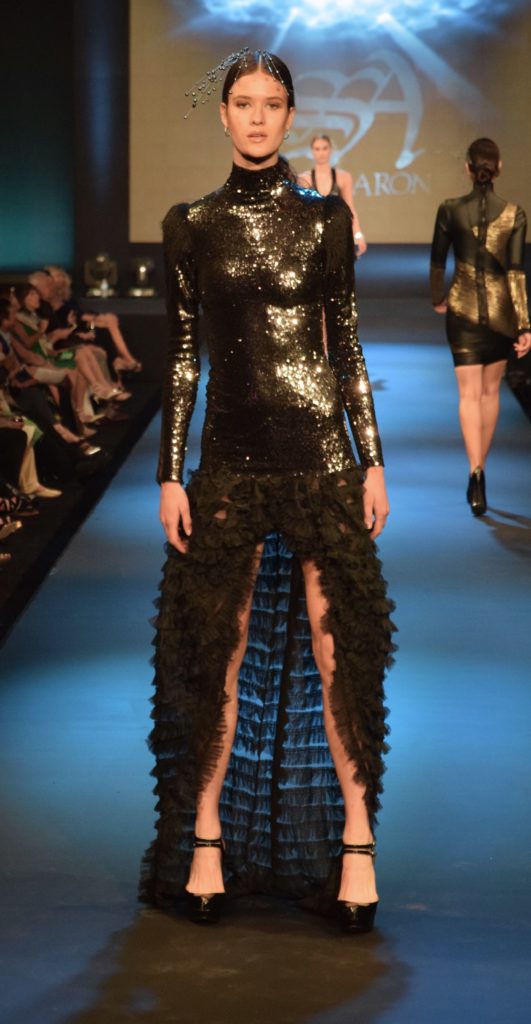 Seth Aaron's "finale dress" snagged our attention the moment it appeared on the catwalk. Let's just say it was really something special, made of iridescent sequins inspired by coral reef and abalone. Can't you just envision all the aquatic life this shiny little number would attract?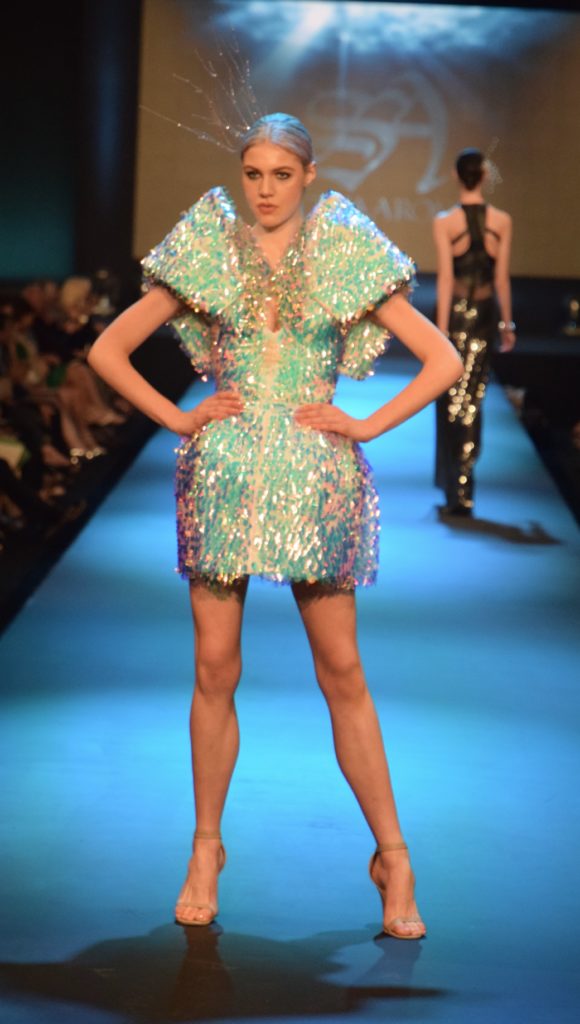 What's next for Seth Aaron?
Now that he's back in the design studio, there's no telling what he could dream up next. In his first few weeks at Fin Fun, he designed a full collection of beach and resort wear for women and children, set to debut in early 2020. For now, it remains under wraps.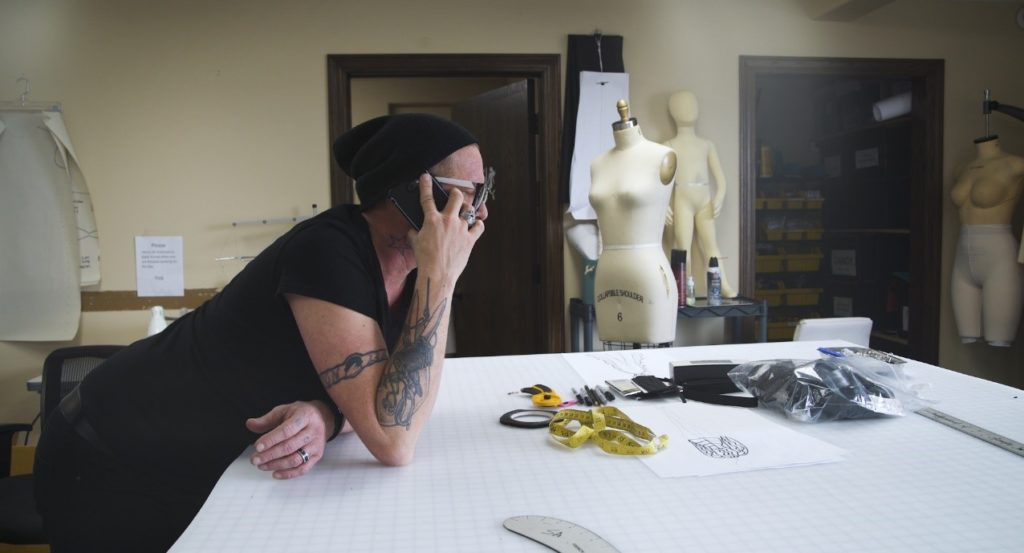 Seth Aaron explained that this ready-to-wear collection "consists of real comfortable clothes" like dresses, romper, jumpers, swimsuits and the like, which people would want to wear while on vacation. Then eventually, he'd like to expand into men's fashion.
"I've worked for all the big outdoor companies, so I know exactly what sells and exactly how they're made and that's my plans for the company," he said.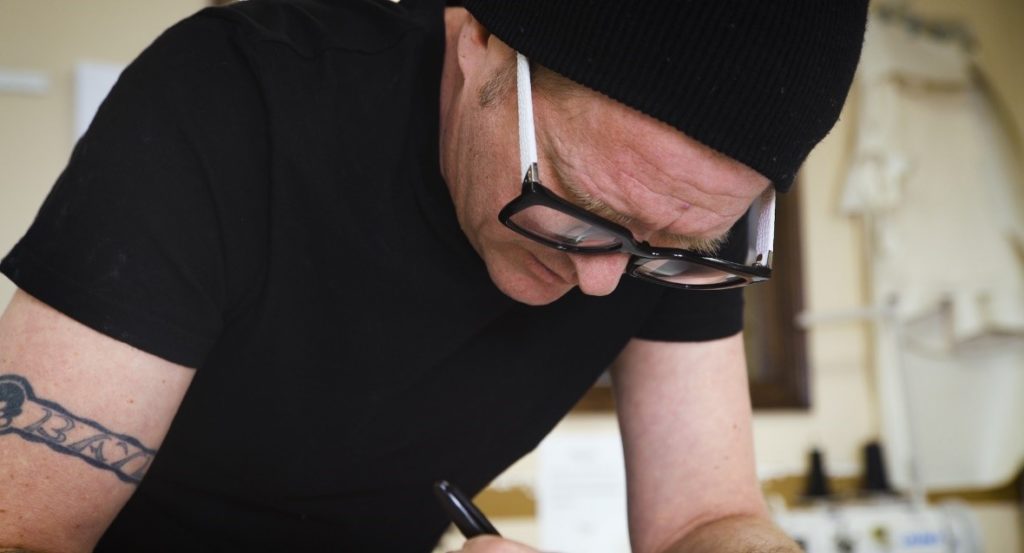 Perhaps the biggest question on every mermaid's mind is whether or not he'll be designing mermaid tails.
"I will be involved in the process," he said. "I hope to actually design a Limited Edition Seth Aaron tail—could be dark colors, could be bright colors."