Fun Foods for Mermaids
Whether you're planning a mermaid-themed party, need movie snacks, or want to create an inspired lunch for a hungry sea-dweller, it's easy to make mermaid-worthy food with this guide from Fin Fun.

Goldfish Cracker Craze
Goldfish crackers are the epitome of quick and easy mermaid snacks. Fill paper cupcake holders or small bowls with these tiny goldfish-shaped crackers made by Pepperidge Farm for a party treat or easy snack while watching your favorite mermaid flick at home. Want to make your own? Check out this recipe for Whole Wheat Goldfish!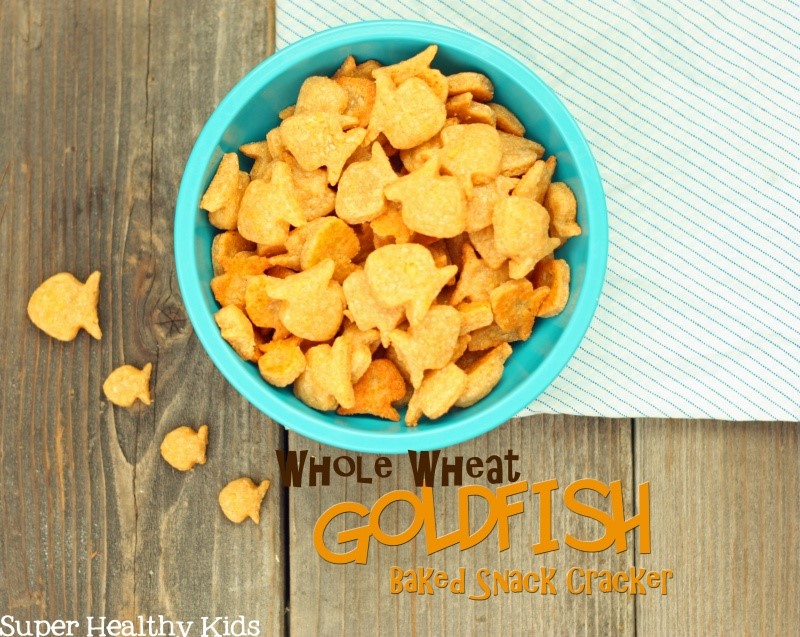 Why not use goldfish crackers in an artistic way? There are several options, but our personal favorite involves frosting! Gather graham crackers, blue frosting, and a few other toppings to create a unique finishing touch with this under-the-sea snack recipe from one of our favorite sweet tooth blogs!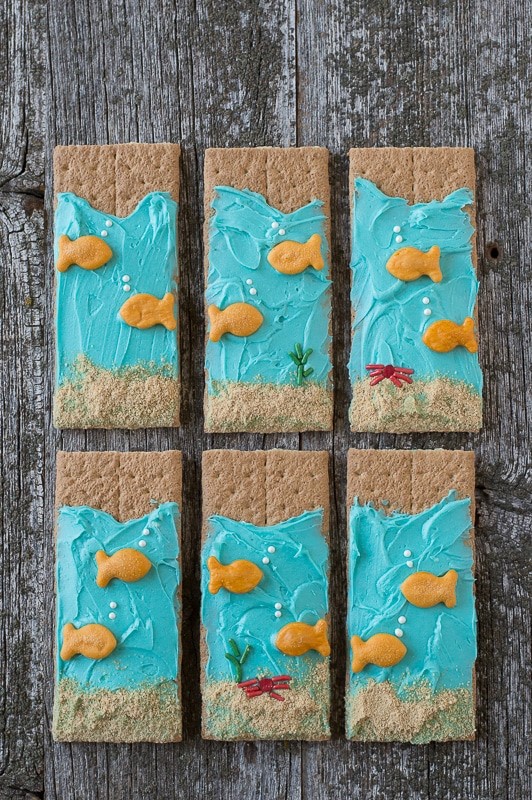 Still salivating over the thought of salty crackers atop a sweet treat of your choosing? We have other ideas, too! Make these cake pops adorned with goldfish for an extra-special surprise at your next mermaid bash!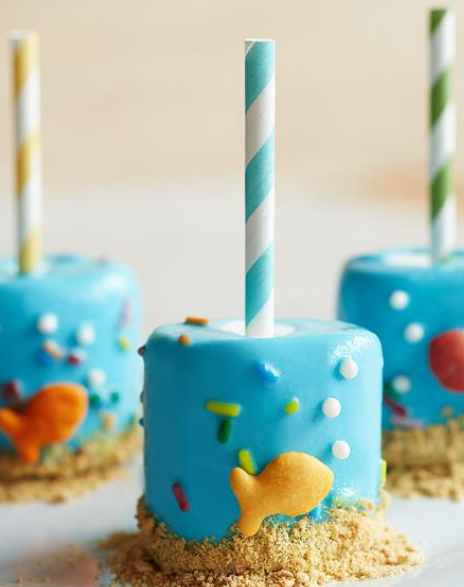 Create a yummy lunch using goldfish crackers, cheese, and tortillas. This easy recipe from Cute as a Fox presents a colorful mermaid lunch idea which includes a download-and-print pattern to cut out a mermaid body. This whimsical spin on a cheese quesadilla uses goldfish crackers to create a 3D mermaid tail and mermaid bikini top. Fashion strands of string cheese into edible mermaid hair for added appeal.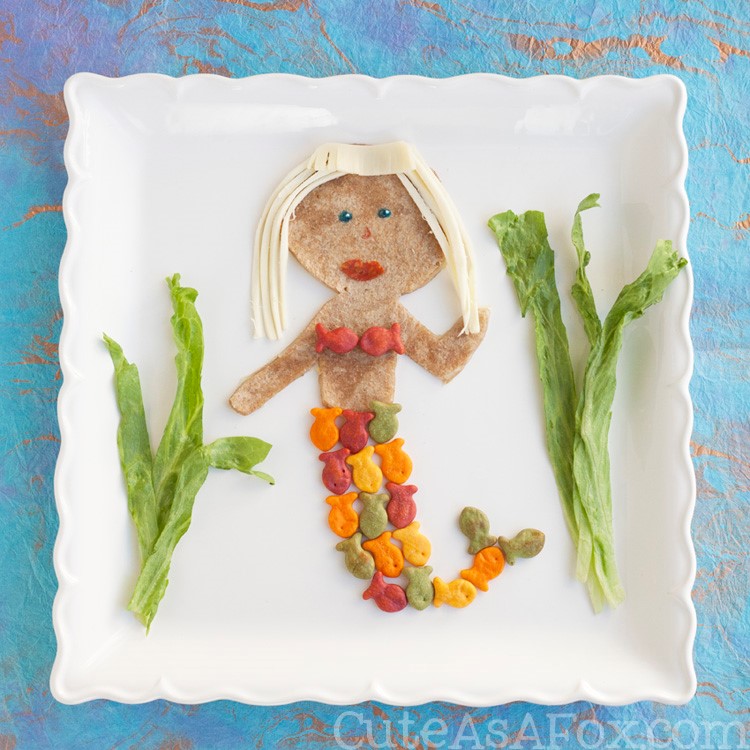 For a healthy side dish or salad, add fresh blueberries and colorful goldfish crackers to a spring salad mix or other lettuce-based salad. You can even top your favorite soup (like clam chowder) with these crunchy snacks.
Sugar Glitter Goodies
Because mermaids are naturally attracted to shiny things, we think that sometimes mermaid food should sparkle! Dip fruit like strawberries, kiwis, blueberries, and/or watermelon into a cream cheese mixture, then sprinkle with edible sugar glitter in colors of the sea for a tasty mermaid treat that really shines!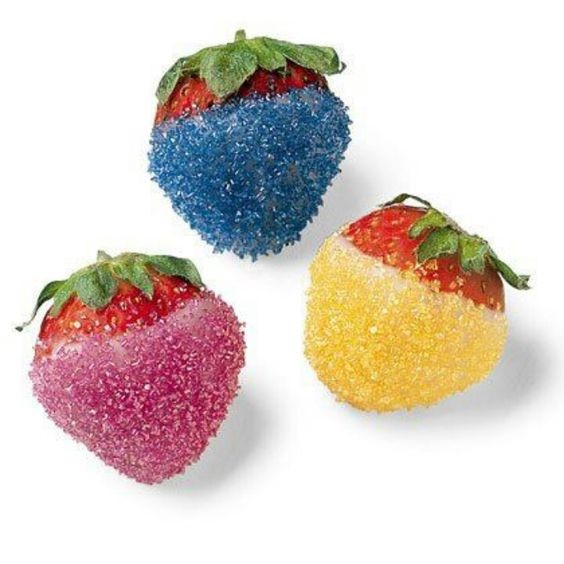 Go one step further and use ocean-themed cookie cutters to create fun shapes. Whether that may be stars, mermaids, or fish—you decide! Not only will it taste fresh from the garden, it will also pack a punch in the photo op arena.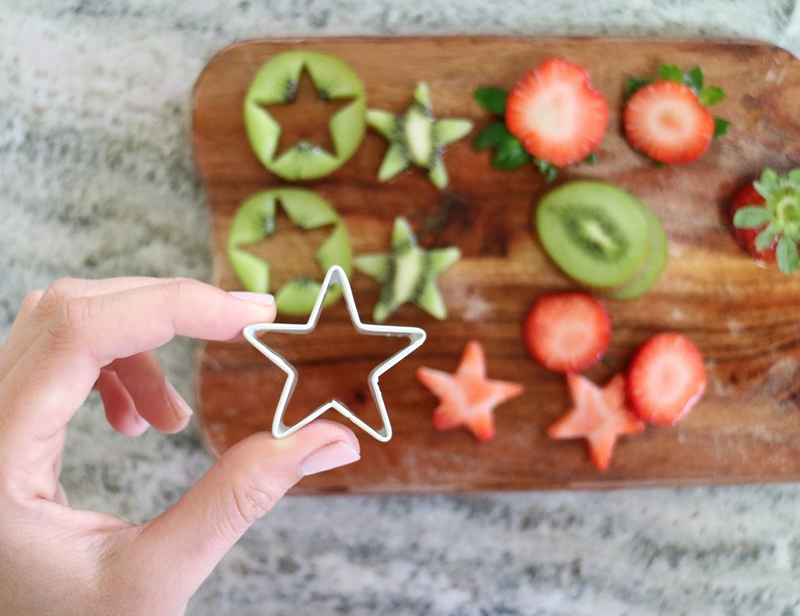 Marshmallow Munchies
Who doesn't love marshmallows? Soft, sugary, and snackable, these tiny puffs of tasty goodness come in more colors than white! Appease the mermaid within you by seeking marshmallows of the multicolored variety! You can weed out all but the blue, green, and white ones to make your sea-lection extra special! Toss them into snack-size plastic bags or your favorite container for quick snack access.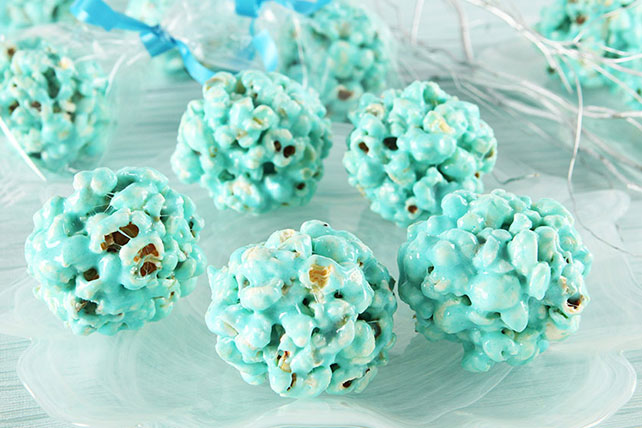 Go one step further and enhance any recipe that calls for marshmallows with flavored JELL-O, like the Berry Blue version used in this recipe for Easy Blue Marshmallow Snowballs from Kraft Foods.
Mermaid Cookies
Need we say that mermaid cookies are "shore" to make a splash in your household? There are boatloads of ways to put a mermaid spin on cookies. Perhaps the simplest way is to use a mermaid-shaped cookie cutter to create mermaids out of your favorite cookie dough. Dress them up with colorful sprinkles, icing, and whatever your heart desires for a lovely look worthy of any sea siren.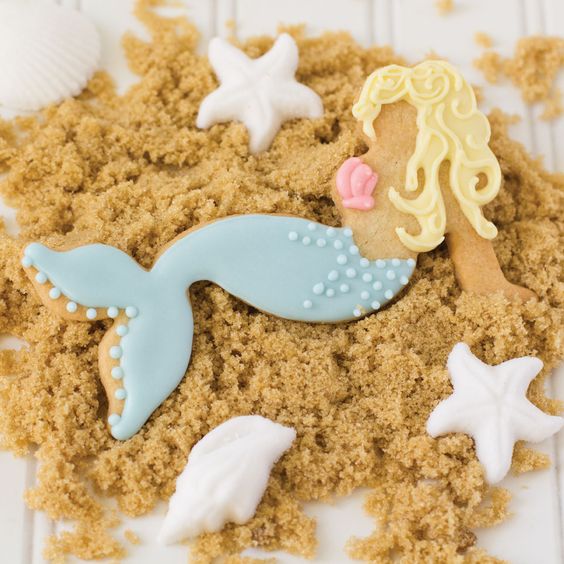 For a seashore look, use your favorite snickerdoodle cookie recipe to make sand dollar cookies. Use a cookie cutter to make round shapes with the dough. Before you bake, press five almond slivers into the dough to create a star pattern at the center. We love this recipe from Mama Miss.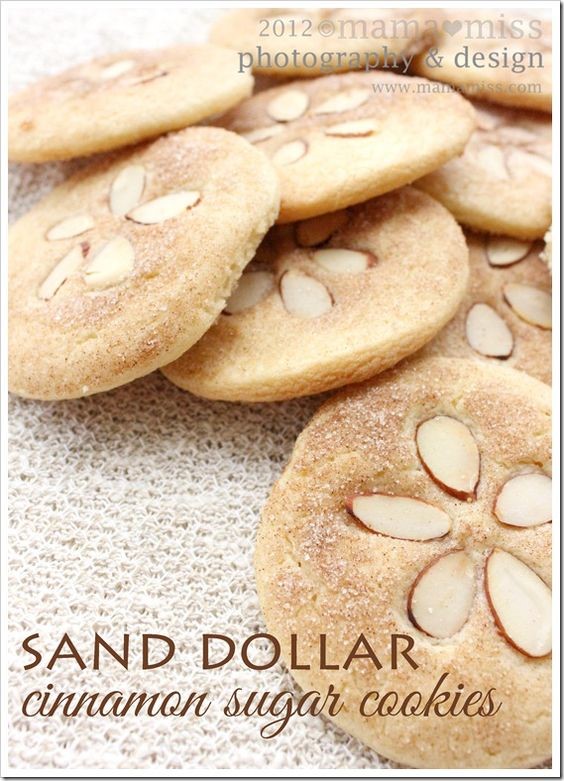 Starfish cookies are easy, too. Use a star-shaped cookie cutter (or a knife) to make your cookies. When baked and cooled, frost and decorate with mermaid-inspired colors. For a colorful alternative, try this tutorial for Watercolor Sand Dollar Cookies!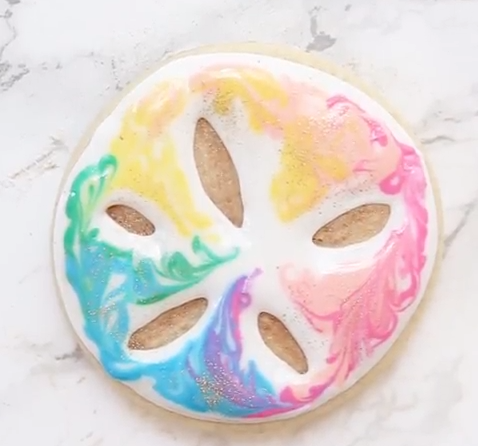 You don't have to be a master chef to create mermaid-themed desserts and pastries. Buy store-made donuts or use a store-bought cupcake mix. Frost the cupcakes or donuts with white or blue frosting. Sprinkle with blue or multicolored sprinkles for an under-the-sea flourish. For a fancy touch, add miniature seashell candies to your design.
Mermaid-ade
You've got to wash down all those mermaid snacks and goodies with something cool and refreshing! Transform a homemade lime slushy or glass of lemonade into the look of a mermaid's underwater home by adding a few drops of blue food coloring. Mix a few drops of blue food coloring with green food coloring to create the look of a turquoise sea.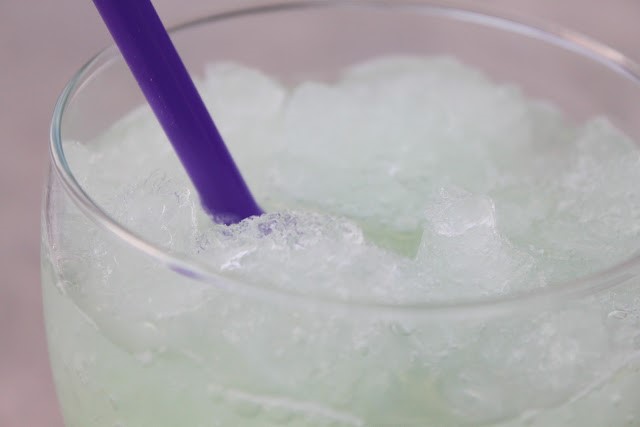 Drop in a few fresh blueberries for a healthy bottom-of-the glass treat. Or, make blueberry ice cubes with frozen blueberries. Find other ice cube concoctions in this article from The Inspired Home.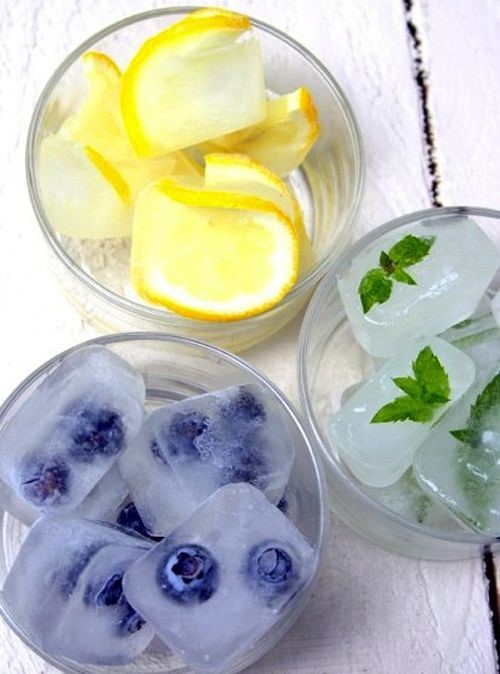 Share Your Favorite Mermaid Snacks!
The best part about being a mermaid is that you get to surround yourself with all the things mermaids love—all in the name of fun! Do you have any mermaid snacks or food recipes that you've tried? Please share with us in the comments below!
If you'd like to make something more filling, check out our delicious mermaid dinner recipes!