Want to spruce up your home decor so it reflects your love of the sea and merfolk? Take a look at the eight DIY driftwood decor ideas! They're "shore" to bring all the beach vibes to your home!
Seaside candle holder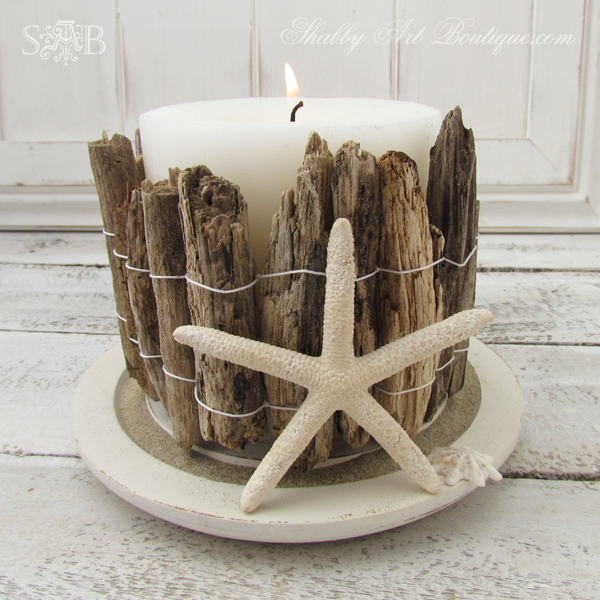 If you already have beach-scented candles, you need coordinating candle holders! This driftwood decor project from Live Creatively Inspired is easy to make and needs limited supplies.
Simply tie together driftwood pieces of similar shape and size with string. Then, add other decorations around the base, such as sea shells, sand dollars, and starfish!
Beachy wind chime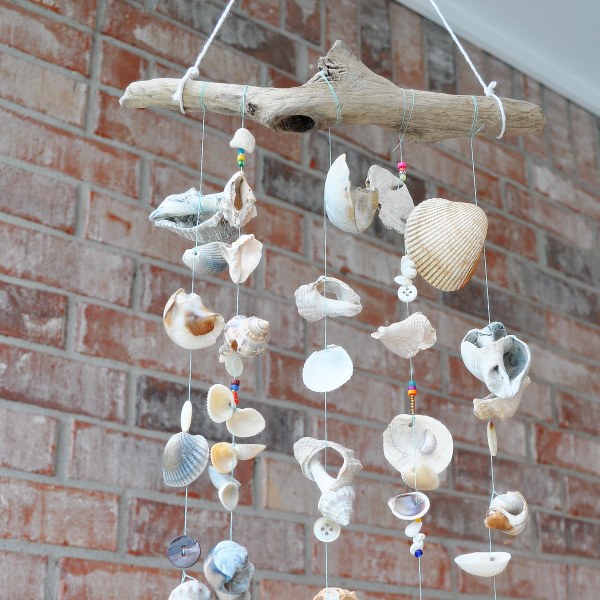 Driftwood decorations don't have to stay indoors! Home Sweet Homemade crafted a gorgeous seashore wind chime that's the perfect addition to your beach house.
With a piece of driftwood for the base, hang stands of sea shells, sea glass, and other pieces of driftwood together. This eclectic design will create a harmony of natural sounds every time the breeze blows!
Ocean-themed wall art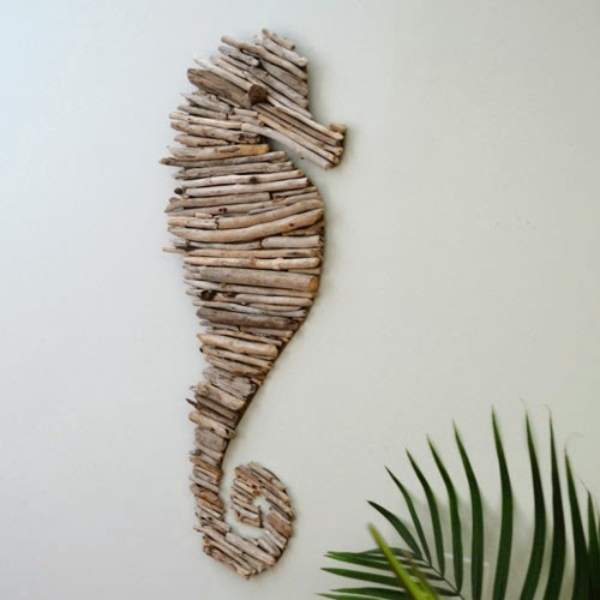 Want to get creative while decorating with driftwood? This DIY driftwood decor project from Creative in Chicago features wall art in adorable sea creature shapes!
Once you sketch out an outline on cardboard, lay out your driftwood pieces in whichever method you prefer. Next, use a hot glue gun to secure each piece in its place. Determine how and where you want to hang it, and you have a new addition to your rustic home!
Rustic lamp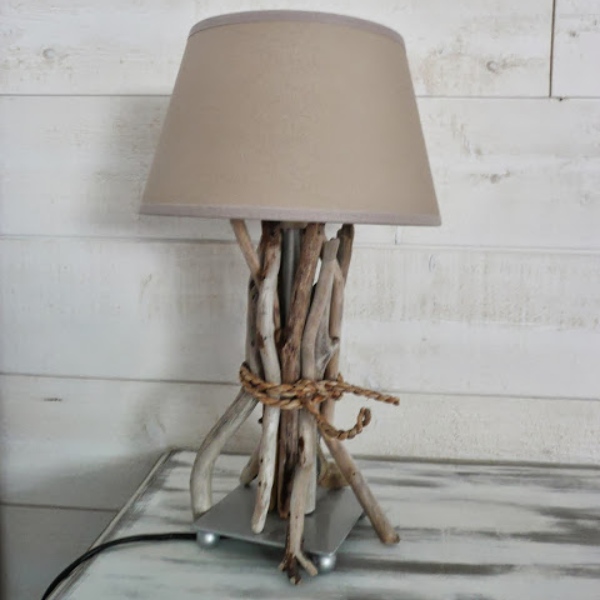 If you need a quick DIY driftwood decor idea, take a look at this raw lamp upgrade from Ikea Hackers. All you need to decorate one of your lamps is gathered driftwood, a hot glue gun, and a strand of rope.
Make sure the wood's length is similar to the lamp post and arrange them around it. When you achieve the look you want, use hot glue to keep them in place. Tie a piece of rope around the wood, and you'll instantly feel the beach a bit closer to home!
Coastal sunburst mirror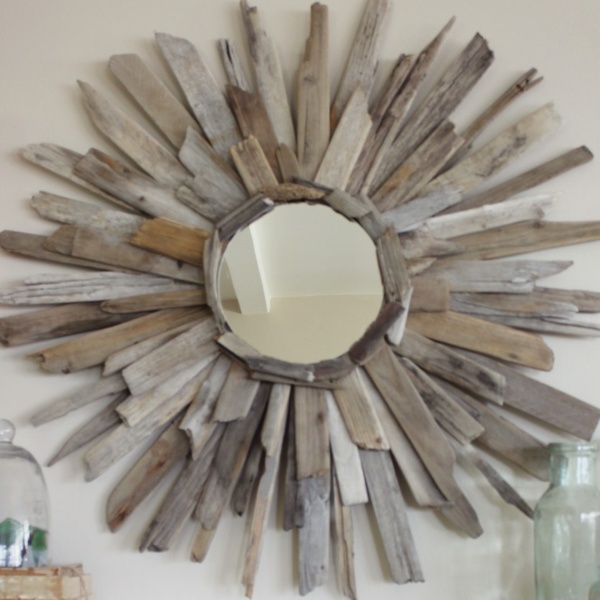 Decorative mirrors add elegance to any home, and you can make your own coastal sunburst mirror out of driftwood! City Farmhouse has a tutorial that's easy to follow and thrifty. It's thorough and gives you exactly which supplies you need to create the same look!
You'll need four different lengths of wood, arranged in a circular shape, and your ordinary mirror will be the ultimate shabby chic addition to your home decor!
Simple frame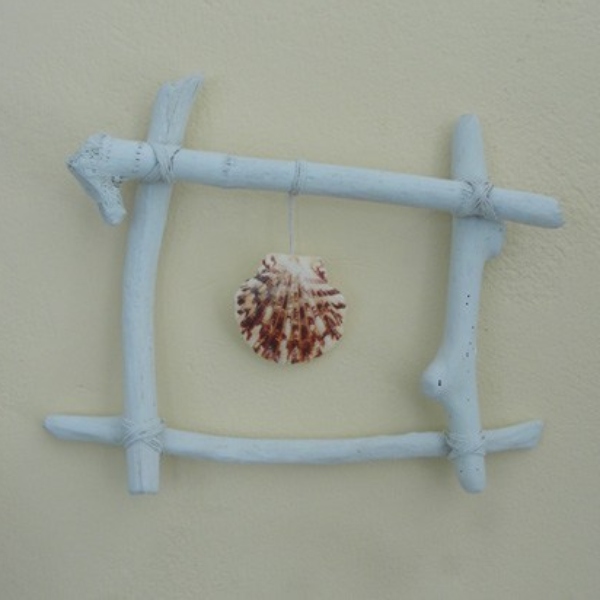 If you want minimalist driftwood branch decor, check out this simple frame by My Desired Home. It's a great way to build a frame from scratch or accentuate a plain, existing one!
Tie together four pieces of wood, and paint them your color of choice. (We suggest a beachy white or sky blue!) You can then use it to frame a picture or hang shells you collected from the seaside!
Wooden starfish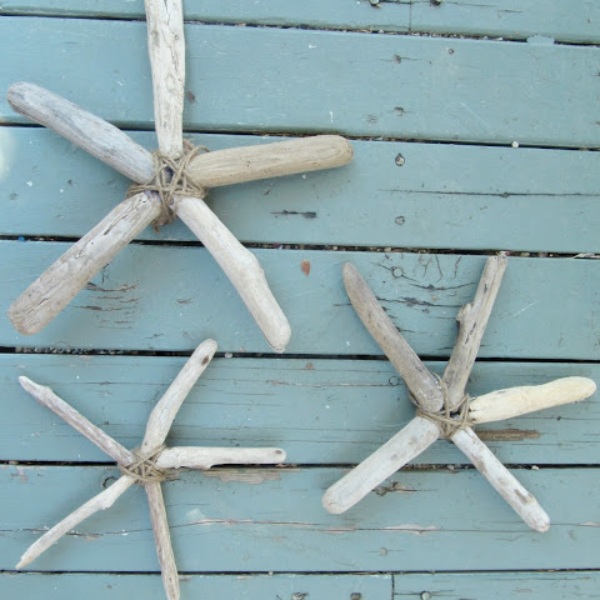 Do you need a rustic centerpiece for your table or accents for your shelving? Try your hand at this DIY driftwood decor project from The Wicker House!
To create each wooden starfish, you'll need five pieces of wood and a circular wooden base. Hot glue each piece to the base and wrap twine around the middle. Not only does the twine hide any showing glue, but it also keeps the wood together and adds a rustic feel!
Natural planter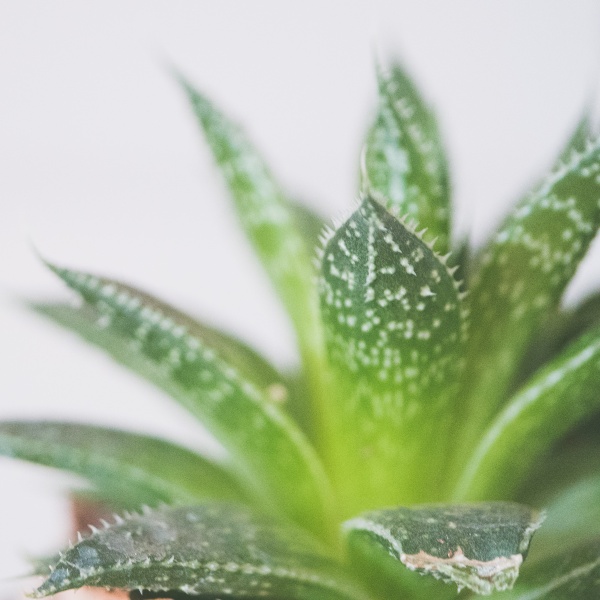 Plants bring nature into your home, and your plant pot can accentuate the unpolished look. Creative in Chicago has a great tutorial for a driftwood planter that uses a small number of supplies!
Attach the wood pieces to the pot with hot glue, and that's it! It's simple yet elegant, making it a great way to easily decorate your home.
Brighten Your Home with DIY Driftwood Decor
Even if you can't spend every day at the beach with your pod and finfriends, splashing around in your favorite mermaid tail, you can bring the beach vibes to you with DIY driftwood decor! Each tutorial is budget-friendly and requires a small number of supplies, so anyone can enjoy these driftwood crafts.
How do you want to decorate your home with driftwood? Tell us which project inspires you in the comments!
---
Want the latest Fin Fun discounts? Take a look!