Just imagine — you're eleven years old, and you've just arrived at Hogwarts. It's your turn with the Sorting Hat, and the next thing you know… you have a green mermaid tail??
What if the "Harry Potter" series took place underwater, and the characters we all know and love were merpeople? Though tails differ from person to person, we know which Fin Fun mermaid tail from the Mermaidens line fits each mermaid Hogwarts house best!
Gryffindor: Tropical Sunrise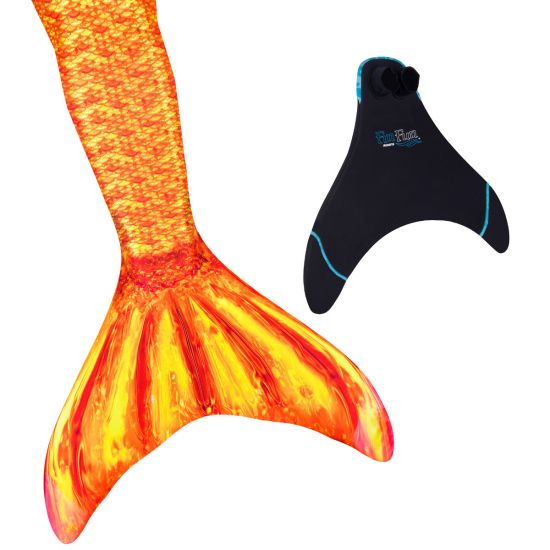 Gryffindors steal the show when they arrive with their fearlessness and bravery. They're the kind of friend you'd let convince you to explore the Forbidden Forest because "it would be cool." Every day is a new adventure with them!
The Gryffindor house would sport the Tropical Sunrise Mermaidens tail with its bold yellow and orange scales. If your little mermaid wants a matching swimsuit, check out the Tropical Sunrise scale swimwear for youth.
Technically, this mermaid Hogwarts house colors are red and gold, but Fin Fun currently doesn't have a red mermaid tail to match it. So, everyone who thinks Fin Fun should make another red tail, type "Give us a red tail!" in the comments! (Although, we highly recommend checking out the Transylvania Nights Halloween mermaid tail if you want something red with Victorian vibes!)
Ravenclaw: Arctic Blue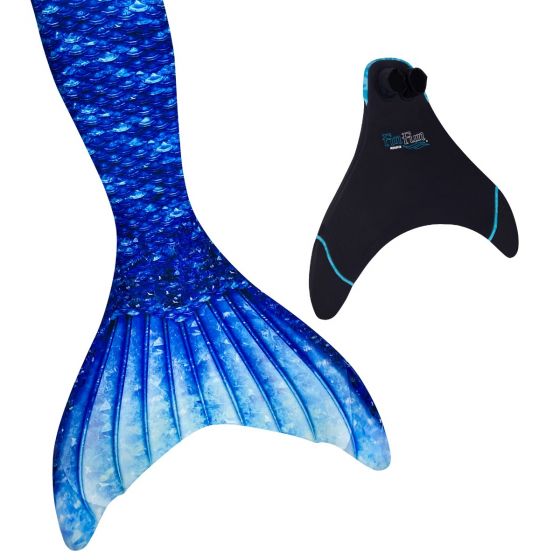 Because they value wit and creativity above all else, it's always good to have a Ravenclaw friend. Not only will they help you with your homework, but they'll also think through problems logically and from a perspective you might not have considered. They can be a little stuck up at times, but you'll loosen them up a bit!
Ravenclaws, your colors are blue and bronze, and we've got the perfect tail for you! The Arctic Blue Mermaidens tail has deep blue scales that look like sapphires glimmering beneath the water's surface. We know that water has memory (Shout out to Frozen II because Elsa would be stunning as a mermaid!), so Ravenclaws need a swimmable mermaid tail as brilliant as themselves!
To complete the look, pair your new tail with the Arctic Blue scale swimwear for youth or the Black Sea Wave bikini top.
Hufflepuff: Barracuda Black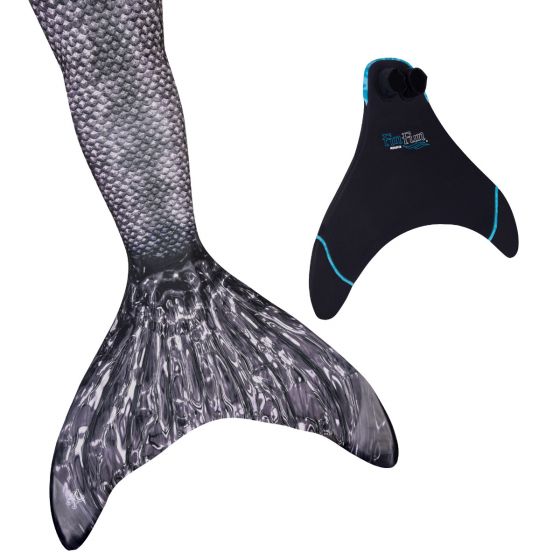 You will always have a friend in the Hufflepuff house. These merfolks favor loyalty and hard work, so they'll make time for you whenever you need someone to vent to or a shoulder to cry on. Their common room is also next to the kitchen, so they're bound to have snacks ready for you too!
If your mermaid house is Hufflepuff, your colors are yellow and black to convey your sunny disposition yet readiness to defend when attacked. We recommend the Barracuda Black tail to rep your Badger pride!
Slytherin: Celtic Green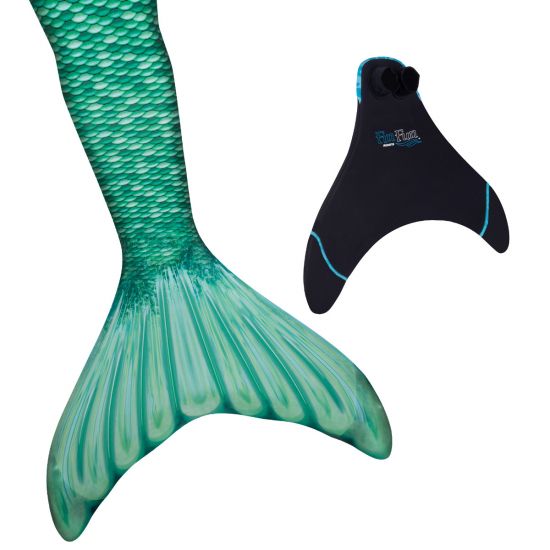 Slytherins are goal-oriented and will keep going at all costs to secure their place at the top. This makes them loyal to their family members, friends, and careers, but, as Dumbledore stated, they can also have "a certain disregard for the rules." Their resourcefulness makes them much like their snake mascot, able to slither out of tough situations!
With house colors of green and silver, we recommend the Celtic Green Mermaidens tail for our Slytherin merfriends. With scales of vibrant emerald and mint hues and the classic Black Sea Wave bikini top, you'll embody the traits Salazar Slytherin admired most!
If you have a youth-sized mer that would like to match their scales, try out the Celtic Green scale swimwear!
Pick Your Mermaid Hogwarts House
Harry Potter taught us that our decisions also affect which house we're sorted into, so choose the mermaid tail of your dreams! If you've always felt in your heart that you're a Ravenclaw, even if you never attended Hogwarts, get yourself the mermaid tail. We love merging our favorite worlds into one, and a wand-wielding mer isn't hard to imagine!
What do you think, merfriends? Which house do you belong to, and which tail do you think fits best? Drop a comment below to share your thoughts!
If this isn't quite your thing, look at which mermaid tail matches your zodiac sign instead!
---
Check out the latest Fin Fun mermaid discounts!